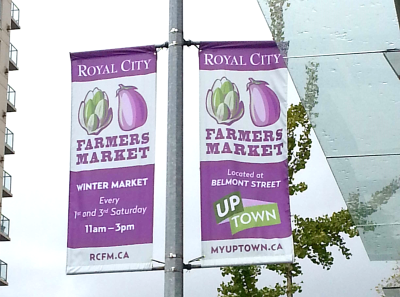 Back on Belmont!
The wait is over, the Winter edition of the Royal City Farmers Market is upon us! We have a full market for you to peruse and a wonderful array of new vendors for you to discover!
Join us on Saturday November 5th from 11am to 3pm on Belmont Street between 6th Street and 7th Street. Our location is nestled in the heart of Uptown New Westminster and is accessible by transit, car, bike and for those of you walking from nearby neighborhoods.
We are so pleased to announce that Roland Kaulfuss will continue to be our Music Stage sponsor throughout the winter season 2016-2017, and our Music Stage this week will feature Jeff Neufeld!
Be sure to visit the vendors situated in our big Marquee Tent sponsored by the wonderful folks of the Uptown Business Association. You'll find many of your favourite vendors under the tent as well as some new faces.
Driving to the market? FREE PARKING is available at Westminster Centre, directly across the street from Belmont Street. If you are taking transit the #106 bus stops at 5th avenue and 6th street.
Join us on Belmont Street for lunch! Enjoy a nice relax Chai tea on one of the UpTown Parklet adirondack chairs!
A list of our vendors for November 5th can be found below. Please check out Facebook Page or Twitter for any last minute cancellations or updates.
What's happening at the Market?
Farm Fresh Produce
Ripple Creek Organics –swiss chard, kale, beets, kennebec potatoes, zucchini, fresh garlic, leeks, cucumber, baby lettuce mix, eggplant, arugula, specialty mix, cherry tomatoes. (Certified Organic)
Ossome Acres -Winter squash, Kale, kalettes, Brussel sprouts, Micro greens, Spinach, Salad mix, lettuce, Herbs, Hand milled soap, Walnuts
Bose & Sons Family Farm

–Broccoli, Carrots, Cauliflower, Potatoes

Country Village Market

 -Frozen berries, greens, pakoras

Nutrigreens

– microgreens, potatoes, zucchini, cucumber

Your Wildest Foods – foraged mushrooms, dried teas and fresh mushrooms
Sweet Earth Organics – carrots
Cheese & Dairy
The Local Churn – hand churned gourmet butter
Beef, Eggs, Poultry and Seafood
Rockweld Farm – BC SPCA Certified frozen chicken and chicken products including eggs, dog and cat food
Wild West Coast Seafoods –  flash frozen fillets of Rock Sole, Petrale Sole, Rockfish, Ling Cod, Pacific Cod, Sablefish, Chinook/Spring Salmon, Coho Salmon, Sidestripe Shrimp, Halibut, Albacore Tuna Loin.
Wheelhouse Seafoods – seafood pasta and crab cakes, frozen salmon and spot prawns
Local Beef & Eggs – purslane, onions, chives, rhubarb, eggs, kale
Artisan Breads
A Bread Affair – breads, baguettes, ciabattas, rolls, scones (Certified Organic)
Gluten Free Breads & Baking
Delish Gluten Free – bread, scones, muffins, brownies and cookies
Marie's Guilt Free Baking – bread, cookies, pizza dough and snacks
Bakery
Sweet Thea Cakes – tarts, pies, cookies and cakes
Simply Scones – traditional English style scones
Sable Shortbread – tasty yummy specialty shortbread
Half Pint Pies – frozen mini pies to take home and bake
Samaya Delights – turmeric muffins, baklava
Snacks
Gary's Kettlecorn – kettle corn (traditional and caramel)
Aslan Chai – Delicious, warm chai lattes
Food Trucks & Eat On Site
Disco Cheetah – Korean fusion tacos and rice bowls
Wheelhouse Seafoods – salmon burgers
Country Village Market – yummy pakoras!
Prepared Foods (Pantry Staples)
Jam Shack Preservery – savoury spreads and jams
Old Country Pierogi –frozen pierogies (gluten free and vegan options available)
Muy Rico – salsas, mayonaise, mole sauces, tortilla chips and corn tortillas
James Lewis Foods – granola bars packed full of good stuff
Livi & K – Raw Granola clusters packed full of flavours
Sidney's Smokehouse – locally made jerky
KICS Lemonade – refreshing lemonade syrups and marmalades
BobAli – tasty dips and hummus spreads
Honey Bee Zen Apiary – New West honey and honey infused products
Anne's Gallery -jams, chutneys and preserves and Spiced Peach Jam!
Jewelry & Artisan Crafts
New World Felting -beautifully made felted scarves & hats
Ildiko Jewelry – handforged sterling silver jewelry
Bits & Keys – funky jewelry and fun crosstiches
Quality Oak Accents – hand crafted cutting boards by Louie
Health, Beauty & Services
Purely Clean – an all natural way to clean your home
Wine, Beer & Spirits
Dragon Mist Distillery – locally made vodka and gin
Special Thanks to our Music Stage Sponsor Roland Kaulfuss: