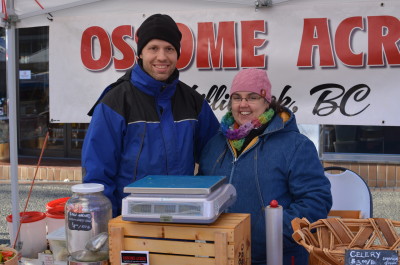 This Saturday is Members Appreciation Day! Join us on Belmont Street in Uptown New Westminster to shop directly from local farmers and small businesses.
Here's a taste of what Membership deals we'll have for members:
Real Meals – 10% off of purchases over $20
Ildiko Jewelry – $5 off any two pair of earrings
Jam Shack Preservery – $1 off large jars & .50 off small jars
You'll have to come by the market to see the rest of the deals! Don't have a membership? No problem. For $10 you can sign up at our Info Tent.
The Roland Kaulfuss Music Stage will be featuring Ron Ulrich. Ron is a popular musician at our summer market and plays covers of pop, rock and folk classics.
Make sure to stop by and say hello to our community guests The Music Box and Heritage Wellness Centre. The Music Box will have an activity for the kids and Heritage Wellness Centre will be there to chat about their Mind Fit program and your overall wellness.
Driving to the market? FREE PARKING is available at Westminster Centre, directly across the street from Belmont Street. If you are taking transit the #106 bus stops at 5th avenue and 6th street. Coming from the Quay? Take River Market's brand new FREE DUC shuttle from the Quay straight to our location.
Join us on Belmont Street for lunch! We have a tented seating area directly across from the food trucks.  This week's eat on site vendors are:
Nellie's Vietnamese Cuisine – Vietnamese comfort food on the go
Country Village Market –  pakoras made fresh at the market
Gypsy Trunk – vegan and gluten free burritos and quesadillas, vegan sausages too
A list of our vendors for January 16th can be found below. Please check out Facebook Page or Twitter for any last minute cancellations or updates.
Produce
Bose & Sons Family Farm – Carrots, Kale (red and green), Zucchini.
Greendale Herb & Vine – Greens, frozen tomatoes (beefsteak, heirloom) Honey, Nuts (hazelnuts), Muesli, Infused Vinegars, Goat's and Cow's Cheese, Popcorn Kernels, Herbal Teas, Dried Lavender.
Ossome Acres – Winter squash, Kale, kalettes, Brussel sprouts, Micro greens, Spinach, Herbs, Hand milled soap, Walnuts
Snowy Mountain Acres – Apples, pears, dried fruits
Country Village Market – Frozen berries, greens, pakoras
Nutrigreens – microgreens packed full of nutrients
Meat and Fish
Rockweld Farm — BC frozen chicken and chicken products including eggs, dog and cat food
Local Beef & Eggs
Wild West Coast Seafoods –  flash frozen fillets of Rock Sole, Petrale Sole, Rockfish, Ling Cod, Pacific Cod, Sablefish, Chinook/Spring Salmon, Coho Salmon, Sidestripe Shrimp, Halibut, Albacore Tuna Loin.
Wheelhouse Seafoods –  Seafood pasta, crab cakes and frozen fish
Eat and Drink On Site 
Nellie's Vietnamese Cuisine – Vietnamese comfort food on the go
Country Village Market –  pakoras made fresh at the market
Gypsy Trunk – vegan and gluten free burritos and quesadillas, vegan sausages too
Mollies Minis – freshly made mini donuts
Gary's Kettlecorn – kettlecorn
Bread and Baking
Delectable Treats and Prepared Yummies
Jam Shack Preservery – Jams jellies marmalades, chutney
BobAli – tasty dips and hummus spreads
Bubble Bombs Specialty Foods – juice bombs to accompany drinks
Old Country Perogi – frozen perogies with gluten free & vegan options
The Raw Guy – kale chips, macaroons, crackers and raw treats
Simply Delish Soup & Salad – dry soup and salad mixes to make at home
Lilise Applesauce – organic home made applesauce from local fruit
Muy Rico – salsas, tortilla chips, mole sauces and mayonnaise
James Lewis Foods – tasty granola bars packed with goodness
Real Meals – prepared frozen foods for healthy meals at home
The Salt Dispensary – salted caramels, smoked salts and pepper mixes
Chanthorn Orchids & Thai Sauces – yummy thai sauces
Bath & Body Care
Olive & Bloom – soaps and body lotions
Jewelry 
Ildiko Jewelry – handforged sterling silver jewelry
Lighten Up Jewels – hand crafted jewelry made by Holly
Liquor
Dragon Mist Distillery – locally made vodka and gin