   It's beginning to look a lot like Christmas!    
Are you checking out the Santa Clause Parade downtown on Saturday? Head on up to Belmont Street to check out the goodies at our uptown market!
Be sure to visit the vendors situated in our big Marquee Tent sponsored by the wonderful folks of the Uptown Business Association. You'll find many of your favourite vendors under the tent as well as some new faces—and some perfect stocking stuffer gifts!
Driving to the market? FREE PARKING is available at Westminster Centre, directly across the street from Belmont Street. If you are taking transit the #106 bus stops at 5th avenue and 6th street. Coming from the Quay? Take River Market's brand new FREE DUC shuttle from the Quay straight to our location.
Join us on Belmont Street for lunch! Enjoy a nice coffee and relax on one of the Uptown Parklet adirondack chairs!
A list of our vendors for December 3 can be found below. Please check out Facebook Page or Twitter for any last minute cancellations or updates.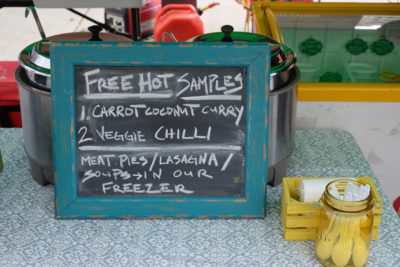 What's happening at the Market?
Entertainment
Farm Fresh Produce
Ossome Acres -Winter squash, kale, kalettes, brussel sprouts, micro-greens, spinach, salad mix, lettuce, herbs, hand milled soap, walnuts, Christmas wreaths
Bose & Sons Family Farm –Broccoli, carrots, cauliflower, potatoes
Country Village Market -Frozen berries, greens, pakoras
Nutrigreens – Micro-greens, potatoes, zucchini, cucumber
Beef, Eggs, Poultry and Seafood
Rockweld Farm – BC SPCA Certified frozen chicken and chicken products including eggs, dog and cat food
Wild West Coast Seafoods –  flash frozen fillets of Rock Sole, Petrale Sole, Rockfish, Ling Cod, Pacific Cod, Sablefish, Chinook/Spring Salmon, Coho Salmon, Sidestripe Shrimp, Halibut, Albacore Tuna Loin.
Local Beef & Eggs – purslane, onions, chives, rhubarb, eggs, kale
Artisan Breads
A Bread Affair – breads, baguettes, ciabattas, rolls, scones (Certified Organic)
Gesundheit Bakery – breads
Gluten Free Breads & Baking
Delish Gluten Free – bread, scones, muffins, brownies and cookies
Marie's Guilt Free Baking – bread, cookies, pizza dough and snacks
Bakery
Sweet Thea Cakes – tarts, pies, cookies and cakes
Simply Scones – traditional English style scones
Samaya Delights – turmeric muffins, baklava
Baguette & Co. – breads, loaves, pastries, croissants, danishes, turn-overs
Food Trucks & Eat On Site
Old Country Pierogi – hot piegoris
Country Village Market – yummy pakoras & samosas
Prepared Foods (Pantry Staples)
Jam Shack Preservery – savoury spreads and jams
Old Country Pierogi –frozen pierogies (gluten free and vegan options available)
Muy Rico – salsas, mayonaise, mole sauces, tortilla chips and corn tortillas
Sidney's Smokehouse – locally made jerky
BobAli – tasty dips and hummus spreads
Lilise Applesauce – delicious gourmet applesauces
Tasty & Nourishing – soups and stews
Kikis' Kitchen – vegan soups
Jewelry & Artisan Crafts
New World Felting -beautifully made felted scarves & hats
Quality Oak Accents – hand crafted cutting boards by Louie
Lighten Up Jewels

-timeless pieces made by Holly
Health, Beauty & Services
Purely Clean – an all natural way to clean your home
Wine, Beer & Spirits
Dragon Mist Distillery – locally made vodka and gin
Steel & Oak – local craft beer
Special Thanks to our Music Stage Sponsor Roland Kaulfuss: