Last week's market day may have been the first day of fall, but my brain was not letting go of summer. With the sun shining, warming my skin every time it peeked around the clouds, I could not shake summer from the mind.
Neither could my shopping list.
Roma tomatoes, onion, garlic, cilantro, and hot pepper filled the definites.
You see, I had recently been gifted Thug Kitchen, a vegetarian cookbook, with, ahem, rather racy language. I love cookbooks, I love looking at the pictures (pictures are key), and I love setting a new cooking challenge for the chef of the house, which is usually not me.
But perusing through the pages it was me who was drawn to the mid-summer, pico de gallo style salsa– everything in it reminded me of summer; everything in it reminded me of market freshness; everything in it screamed I could make it.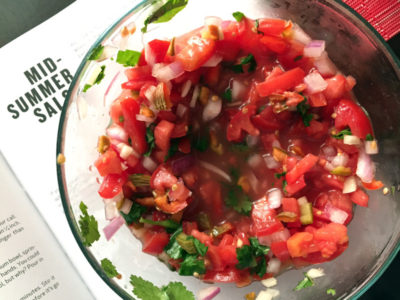 I was dubious at how it would turn out at first, I mean, I've been all sorts of loving Muy Rico's pico de gallo all summer long. What if I didn't pick out the most perfect tomatoes; what if I didn't chop the onion the right way; what if I didn't use enough garlic; what if I made it too spicy, or not spicy enough? Yes folks, these are the questions that dominate my brain when taking over the meal-making reins. Baking, which I love to do, is exact, cooking is subjective – too much room for interpretation.
But here's the thing, this recipe was crazy, crazy, crazy easy. I made it with a four-year-old running all around me and didn't get frustrated once. Chop a few veg, don't burn your fingers or eyes with the hot pepper, mix it together, throw it in the fridge, and BAM, done!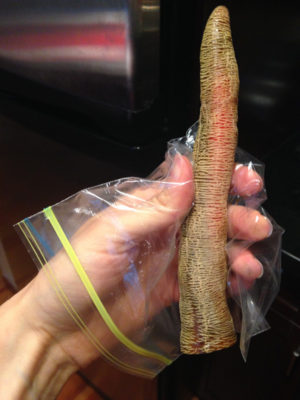 Some might associate easy with lacking – don't do it!
I know I've said it before, but wow, the power of ultimate freshness – grabbing those ingredients right off the market tables, ingredients that have been picked fresh that day, and plopping them into your mouth hours later – is HUGE! So fresh. So flavourful. So marketlicious!
All but two of the ingredients (salt and lime) were acquired at the market.
We decided to appropriately pair the salsa with our vegetarian Mexican stuffed peppers (featuring market tomatoes, corn, and cilantro) that we discovered awhile back through this market-buying challenge. I made what I thought was a huge batch of salsa; it said it was good for 4-6 servings. We ate ALL of it. We had leftover fillings for the stuffed peppers, but no leftover salsa. We had leftover tomatoes, cilantro, onion, and hot pepper, but no leftover salsa.
The kitchen was most definitely calling for more!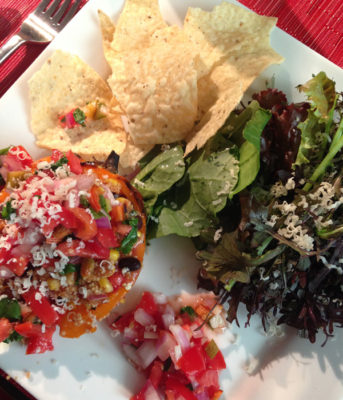 This week's loot:
Zaklan Heritage Farm: • ~ 2lbs roma tomatoes: $2 per pound
• 1 red onion: $2.50 per pound
• 2 sweet peppers: $2
• 2 bags mustard greens: $5
• 1 head red lettuce: $3
• 1 Macedonia hot pepper: $0.20
Ripple Creek Farm: • 1 bunch cilantro: $2
• 2 Georgian Fire garlic bulbs: $3.50
• 1 zucchini: $2.50
• 1 delicata squash: $3.50
Bose and Sons Family Farm: • 2 corn: $1
Nutrigreens: • 1 bag microgreens: $5
• 1 bag green beans: $2
Jam Shack Preservery • 1 jar pear and pineapple ginger jam: $5
Total spent was $41.40. We had 90 cents to spend from the previous week, leaving us in the red for 50 cents.
You may have noticed I don't have exact dollar amounts for the produce acquired at Zaklan Heritage Farms; I admittedly got excited, and distracted, by the Macedonia hot pepper, which I had never seen before!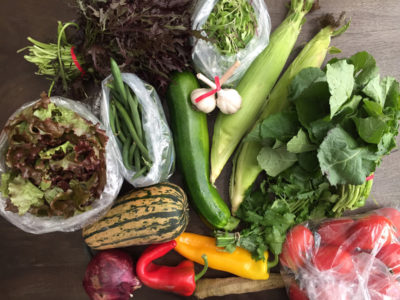 Other market-lovely meals of the week included paella that featured the green beans, onion, garlic, and peppers from the market; weekend frittatas that also used peppers, zucchini, and onion; and a whole thwack of lunch and dinner salads.
My husband and son drooled happily over their morning (and snack) toasts thick with the pineapple and pear with ginger jam from Jam Shack Preservery.
We had hoped to get a loaf of chocolate bread from A Bread Affair, but sadly it wasn't on the shelves due to quality control. It will again be on the list for this week with fingers crossed.
The expenditure wasn't all summer, though. With a few of our definites for the week dashed, we had some unexpected money to spend to fill up the budget. On a whim, I grabbed this delicata squash off the Ripple Creek Eco Farm table; I have no idea what to do with it.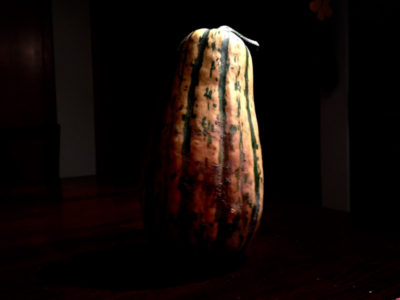 Please help – I am looking for any and all suggestions!
With the dwindling days of the summer market, just one more left to go (don't forget, the winter market starts ???), any items you'll be missing?