My, oh my, how planning for road trips has changed over the years.
Back in the day – the, ahem, less healthier, less grown-up day – road trip snacks were all about the salts and the sweets: chips, chocolate, what more did I need, really… besides a bathroom, that is. Inevitably, a good portion of those trips were spent with a belly ache, not to mention blood sugar readings that had my diabetic specialist cringing.
But now, a prospective dietitian, and a mom of an impressionable youngin', I am more conscientious of nutritional goodness. The salty, sugar-laden road trip snacks of years past are just that: a thing of the past.
This week's $40 challenge was all about planning for the road trip.
I was off to Shuswap with my four-year-old son, and his five-year-old cousins the day after the market. Just the three of us in one car for six hours with one meal stop in between. Two of us in the car have type-1 diabetes.
I don't know about you, but I am always extra hungry on road trips. Maybe eating is my way of passing the time, giving me something to do other than asking that age-old question: "Are we there yet?" Regardless, my mouth is in constant need of chewing when on the road.
The healthier, the better.
The market did not disappoint.
With my cooler in hand, I searched out all snacking possibilities the market had to offer.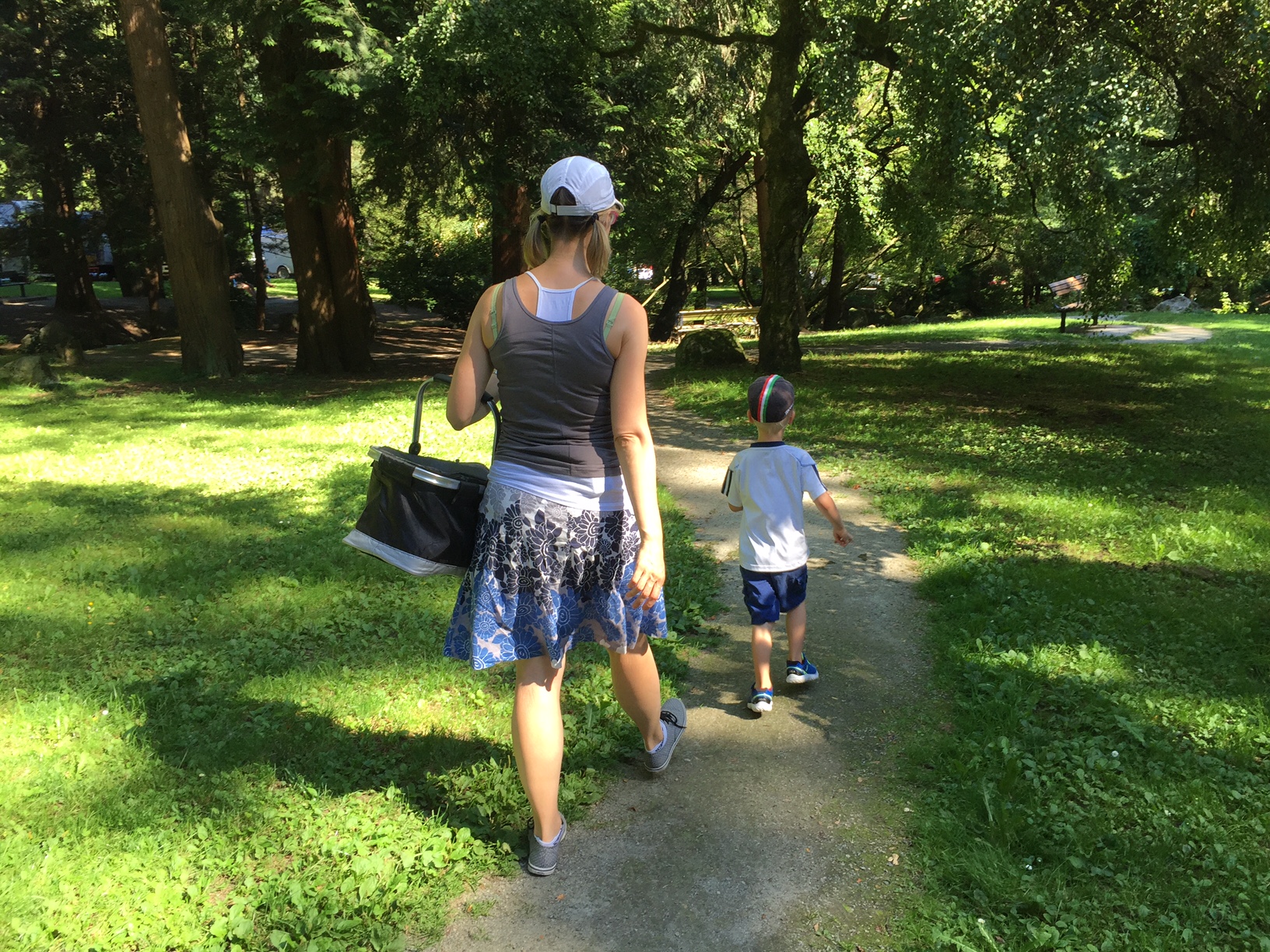 This week's "road-trip" loot:
• 5 mini cucumbers: $3 (Greendale Herb and Vine)
• Carrot bunch: $1.50 (Bose & Sons Family Farm)
• 5 Okanagan gala apples: $5 (Rai Produce)
• 5 pears: $4 (Outwest Ranch)
• 12 eggs: $6 (Outwest Ranch)
• Tatsoi and Pizzo mustard greens: 2 for $5 (Zaklan Heritage Farm)
• 2 salmon burgers: $8 (Wheelhouse Seafoods)
• 2 zucchini: $1.50 (Fresh Quality Produce Ltd.)
• 6 corn: $3 (Fresh Quality Produce Ltd.)
• 1 Russian garlic $2.25 (Rancho Los Andes)
Total spent was $39.25. We were 75 cents under budget, but last week we were $1.20 over budget.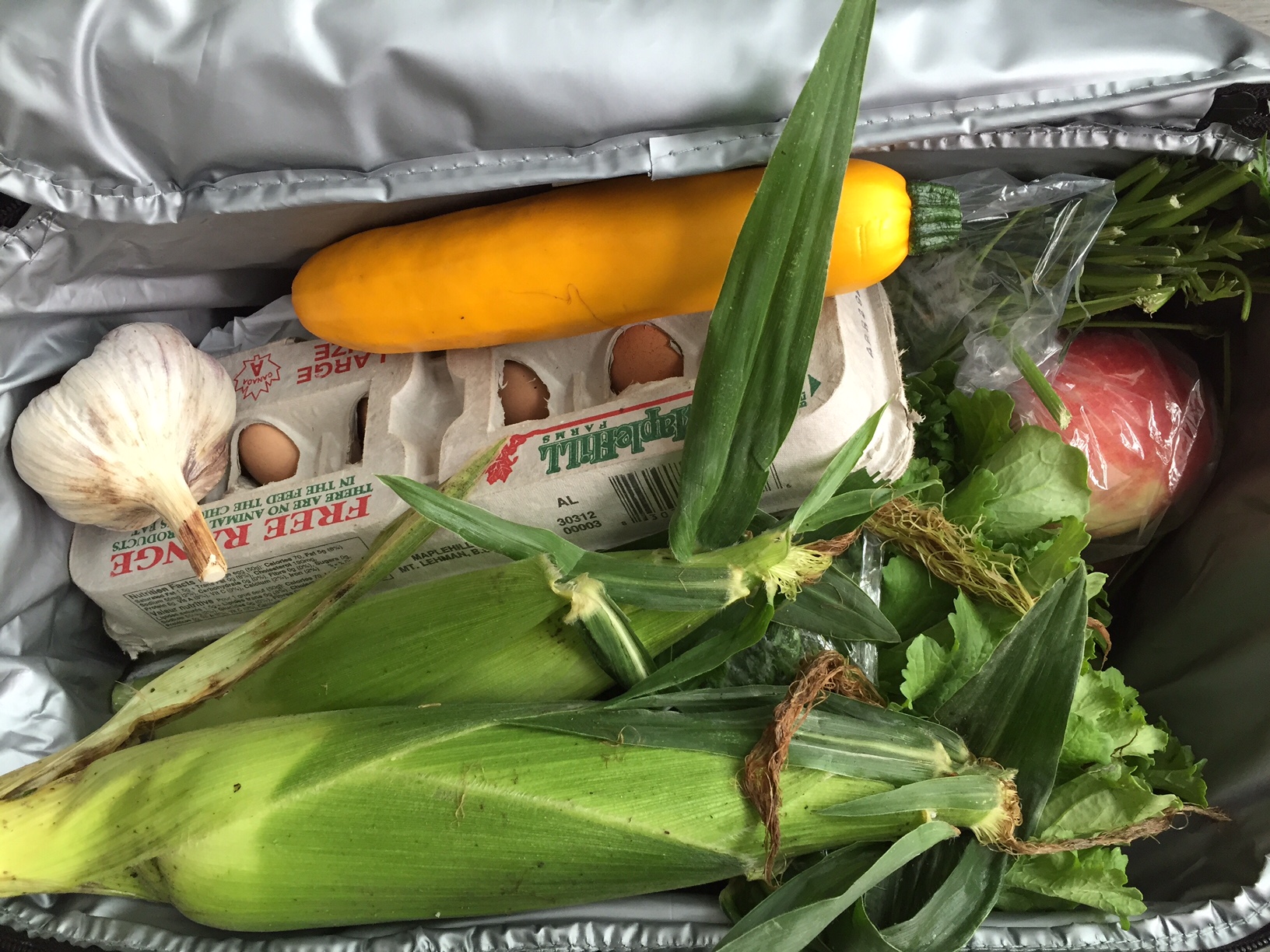 The cucumbers and carrots were fantastic for the ride up. As were the apples and pears. The apples were so juicy good, my son, who normally takes a few bites of the apple before discarding it ate the entire thing right to the core, and asked for a second one right after exclaiming it was the best apple he's ever eaten!
Sure it was a bit messier than other snacking options, but when you've got a toddler in the car, chances are you've also got wipes handy and a garbage for the waste.
And I felt a whole lot less guilty, and my belly felt a whole lot less turmoil eating subsequent mini cukes over subsequent chips and chocolate bars.
A five-day trip also required some foods at the cabin, which is where the eggs, corn, greens and zucchini came to play. The eggs were great for the mornings, and the corn and greens served us well for lunch and dinner sides.
The salmon burgers were for my husband who did not join us for the trip.
We weren't perfectly healthy on this trip. My nephews introduced me to the world of smores, there were ice cream cones, and the grandma of the cabin did a whole lot of tasty fine baking. But, by balancing that all with the nutritional goodness of the market fruits and veggies had me feeling not only balanced, but happily satiated.