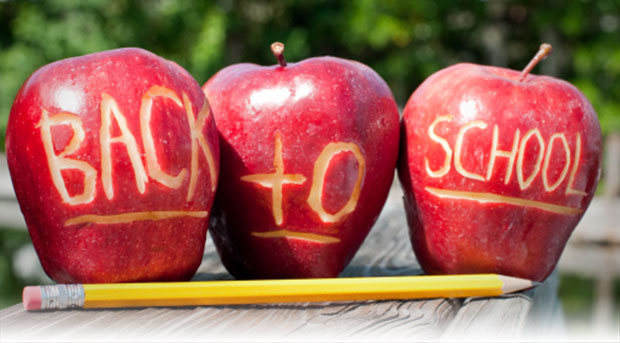 It's that time of year when kids, teenagers and adults are heading back to school!  Need some great snacks to pack in those lunches? We've got your covered. Stock up on these delicious snack ideas from our fantastic vendors:
Parents like to tuck a Simply Scone or two into their children's lunch.  So easy and so good!
Visit with James Lewis to get healthy granola bars to keep tummies full til dinnertime.
Apples are good for teachers as well as kids. Harvest Direct can assist you with all your apple needs.
Looking for gluten free or nut free treats? Both Delish Gluten Free and Marie's Guilt Free Baking can help you out.
Wine from Pacific Breeze Winery to celebrate the return of the school year 😉
Stock up on farm fresh goodness from all your local farmers!
What's happening at the market this week?
Entertainment
Aunt Leah's
The Friendly Landlord Network is a grass-roots solution to youth homelessness connecting youth from care with safe, affordable rental housing. Rent your suite to a youth leaving foster care and make a difference. Friendly Landlords receive market rent, ongoing tenancy support and monthly on-site check ins.
Friendlylandlordnetwork.com
Yoga
For the Kids
Have fun in our Mini Farmers Market play area (free)
Fun crafty craft with our volunteers (free)
For information on where our market is located, how to find parking and transit directions visit our Summer FAQ page.
Download the Ultimate Farmers Market Shopping List to help with your meal planning and purchases for the week.
Farm Fresh Produce
Ripple Creek Organics – chard, kale, beets, nugget potatoes, zucchini, brocoli, green onions, green beans, fresh garlic, cabbage, cucumber, cauliflower, cherry tomatoes, onions, eggplants, carrots (Certified Organic)
Ossome Acres – pea shoots, eggs, raw walnuts, parsley, kale, swiss chard, rainbow chard, purple cabbage, broccoli, scallopini, scallions, sunflower shoots, wheat grass, kohlrabi, potatoes, cucumber, artichoke, plum, bartlett pears, zucchini, celery, beets, castile soap (Certified Organic)
Bose & Sons Family Farm – lettuce greens, carrots, potatoes, green peppers, tomatoes, zucchini, turnips, corn
Harvest Direct Farms – Peaches, plums, nectarines, apples, pears
Fresh Quality Produce Ltd – strawberries, blueberries, blackberries zucchinis, nugget potatoes, green beans, wax beans, corn
Zaklan Heritage Farms – Head lettuce, mini gem head lettuce, radishes (all sorts), salad mix, mustard greens, arugula, swiss chard, kale, baby cucumbers, zucchini, carrots, beans, leeks, potatoes, peppers (hot/sweet), eggplant, roma tomatoes, cherry tomatoes, beets, onions, garlic, flowers, plums.
Country Village Market – blueberries, strawberries, corn
Rancho Los Andes – tomatoes
Nutrigreens – microgreens, potatoes, zucchini, cucumber
RCFM Merchandise Stall – Dried morel and porcini mushrooms
Cut Flowers
Rancho Los Andes – expertly made bouquets for you to enjoy
Cheese & Dairy
Golden Ears Cheesecrafters – Cheddar-Aged Medium, Brie, Jersey Blue, Cultured Butter, Havarti-Aged (Flavoured), Gouda-Aged Medium (Flavoured), Feta (Plain, Cranberry, Garlic Scape), Curds, Neufchatel (Plain, Herb & Garlic), Quark (Plain, Cranberry), Emmental, Velvet Blue
Beef, Eggs, Poultry and Seafood
Rockweld Farm – BC SPCA Certified frozen chicken and chicken products including eggs, dog and cat food
Wild West Coast Seafoods –  flash frozen fillets of Rock Sole, Petrale Sole, Rockfish, Ling Cod, Pacific Cod, Sablefish, Chinook/Spring Salmon, Coho Salmon, Sidestripe Shrimp, Halibut, Albacore Tuna Loin.
Wheelhouse Seafoods – seafood pasta and crab cakes, frozen salmon and spot prawns
Local Beef & Eggs – wild blackberries, purslane, onions, chives, rhubarb, eggs, kale
Artisan Breads
A Bread Affair – breads, baguettes, ciabattas, rolls, scones (Certified Organic)
Gluten Free Breads & Baking
Delish Gluten Free – bread, scones, muffins, brownies and cookies
Marie's Guilt Free Baking – bread, cookies, pizza dough and snacks
Bakery
Sweet Thea Cakes – tarts, pies, cookies and cakes
Feeding Change – decadent raw treats
Solodko Bakery – Ukrainian bakery with sweet buns
Simply Scones – traditional English style scones
Sable Shortbread – tasty yummy specialty shortbread
Coffee & Snacks
Handworks Coffee Studio – pour over iced coffee
Gary's Kettlecorn – kettle corn (traditional and caramel)
Food Trucks & Eat On Site
Disco Cheetah – Korean fusion tacos and burritos
Wheelhouse Seafoods – salmon burgers
Prepared Food (Dry Goods & Seasonings)
The Salt Dispensary – salted caramels, smoked salts and pepper mixes
James Lewis Foods – granola bars packed full of good stuff
Prepared Foods (Pantry Staples)
BobAli – your favourite dips and spreads
Jam Shack Preservery – savoury spreads and jams
KICS Lemonade Syrup – syrups and salad dressings
Aji Gourmet – salsas and delicious condiments
Old Country Perogi – frozen perogies (gluten free and vegan options available)
Muy Rico – salsas, mayonaise, mole sauces, tortilla chips and corn tortillas
Health, Beauty & Services
Scentimental Creations – soaps and personal care products
Purely Clean – an all natural way to clean your home
Jewelry & Artisan Crafts
Quality Oak Accents – hand crafted cutting boards by Louie
Bits & Keys – funky jewelry and fun crosstiches
Lighten Up Jewels – timeless pieces made by Holly
Wine, Beer & Spirits
Pacific Breeze Winery – wine made here in New West!
Special Thanks to our Music Stage Sponsor Roland Kaulfuss: