With protein back on the definite list, my husband and I marched straight to the albacore tuna at the Wild West Coast Seafoods truck the second we got to the market.
After a week of veggies only, we were itching to try out some new meaty options.
In our house, fish is tops. Not only do my husband and I love it, it's one of the few protein options we don't have to fight our three-year-old on, whether it be salmon, shrimp, cod, or halibut, the boy loves it all.
But tuna, I've always associated it as being more expensive. I think in the seven years of our marriage, we've cooked it maybe once. Beyond a can, the only tuna eating we do is take-out sashimi.
Shame.
Yet, in my research of Wild West Coast Seafood's pricing, a pound of tuna for $14 was the second least expensive option on the menu.
Hmm…
A few days prior to market day, I sent manager Ron Gorman Jr. a message by Facebook. I told him I was on a budget, and was interested in either the rockfish, which was slightly cheaper at $10 a pound, or the tuna. I wanted to know how much I'd need to purchase to serve our family of three, and because we hadn't cooked much with either, I asked if he could provide a few suggestions on how to prepare them.
Well. His response was a mountain of ideas. With rockfish: fish tacos, stir fry, or chowder. With tuna: lightly grilled on the barbecue, and leftovers in a tuna nicoise salad, or on a fresh baguette style sandwich.
He also offered an education.
He told me that rockfish is a grouping of fish that represents over 30 different species; the one most notable to our waters is called red-banded rockfish, but is more commonly referred to as snapper. It's a mild-flavoured, firm fish with bone out and skin off, "great for kids."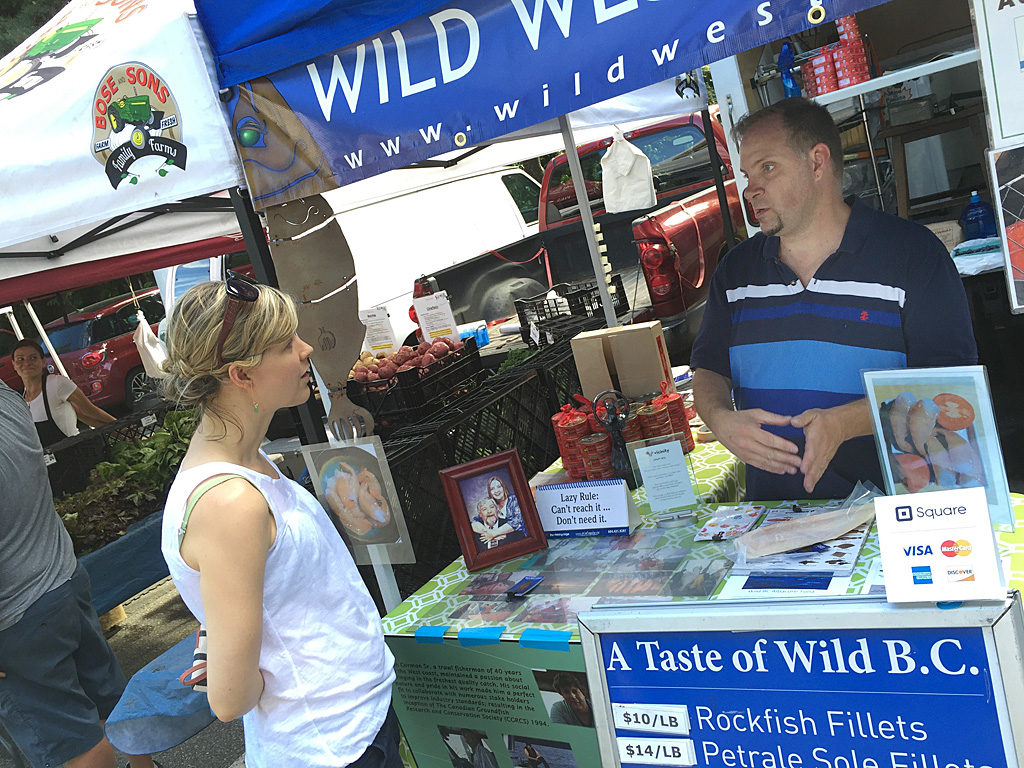 Our love for tuna, plus the fact I'd eaten rockfish a few days prior at El Santo, won out– we had to have the tuna.
It was not the wrong decision.
The first bite was like euphoria on a fork. Every other bite seemed better than the previous. We couldn't stop complimenting it. And our boy, he ate every last bite of it, no squawking, no shaking his head, no stalling.
The loin we got was around a pound, and it was thick and crazy filling. Two and a half servings filled up one dinner, and a third serving went to the next day's lunch atop a market-fresh salad.
Comparably, we spend the same on salmon fillets of the same length at the grocery store, but thickness, these were double the heft. And the taste, I didn't want to stop eating, I've been thinking about it since, dreaming of the next time it will be in my mouth.
And the next day's serving did NOT smell. You know how sometimes day old fish takes on a pungent fishy odour? Not this tuna, it smelled just as fresh as it had been cooked minutes prior.
We served the tuna alongside a grilled green bean, apricot and Italian onion salad, along with a grilled fig, sliced in half, topped with aged Havarti, and wrapped with prosciutto. The only thing not purchased at the market was the prosciutto.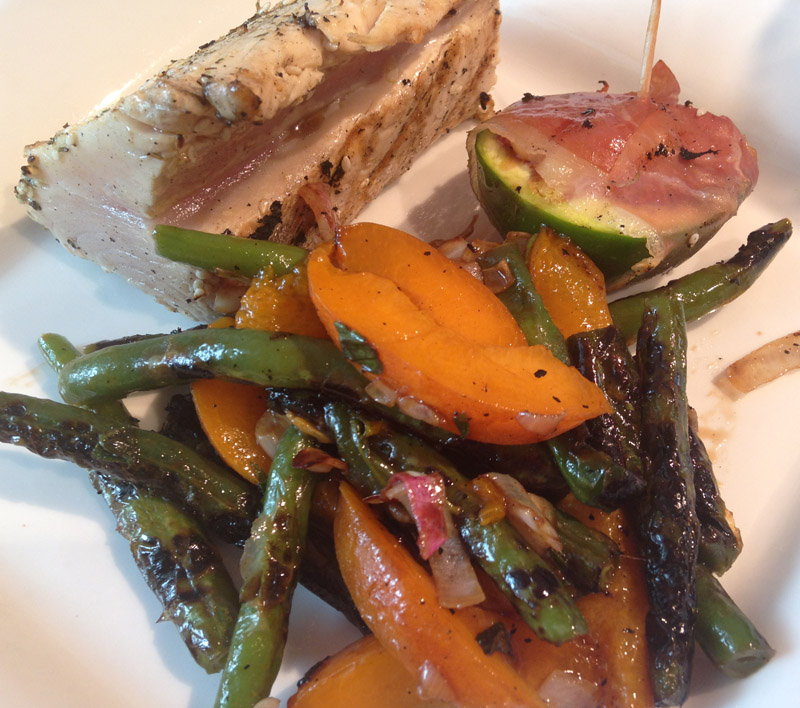 It was like gourmet dining – at home!
This week's loot:
Loin of tuna: $12 (I got a deal!)
2 cucumbers: $1.50
radishes: $2.50
2 red peppers and 1 large tomato: $4.50
Ruby streaks mustard greens: $3
1 zucchini: $1.50
2 fig: $1
bag of potatoes: $4
handful of basil: $1
basket of apricots: $5
sour cherry and sherry butter: $4
We didn't need a lot of greens this week as we were still holding strong from the previous week. So we planned for at least one full market meal, and then side veggies to compliment our dinners, and add to our breakfasts, lunches, and snacks.
We spent exactly $40.
I've been at this challenge for a month now and I'm learning new things as I watch and listen to the farmers and vendors chatting with their shoppers. I've seen farmers stuff bags of cherries with more cherries than were in the basket because they liked who they were talking to; I have a friend who says one of the fruit guys always gives them extra because he can't help but be lured by the charm of her daughter; I, myself, have been the recipient of a container of microgreens stuffed full, nearly beyond the point of closing, I'm sure because I'd asked the vendor about their farm, and what of the benefits microgreens could give me.
I'm not saying you're going to get a deal every time, but people, if the above is any indication, it pays to know your farmers. Talk to them. Find out about their products. Ask how they grow.
You never know.
Tally for the week:
4 breakfast smoothies: last week's chard and kale
1 breakfast portobello and egg, topped with market microgreens, ruby streaks, basil Italian onion stems, and melted aged Havarti
6 large lunch salads: greens and veggies from this week and last week
1 full-plate dinner salad
3 half-plate dinner salads
3.5 servings tuna loin
3.5 servings chicken sauté with market rainbow chard stems and leaves and Italian onion from last week
5 servings snack vegetables: cucumbers, radishes, red pepper
2 figs: 4 servings, wrapped in prosciutto with aged Havarti from two weeks ago, and fresh in a salad
3 servings grilled apricot, bean and onion salad
2 omelettes with market basil, Italian onion stems, and aged Havarti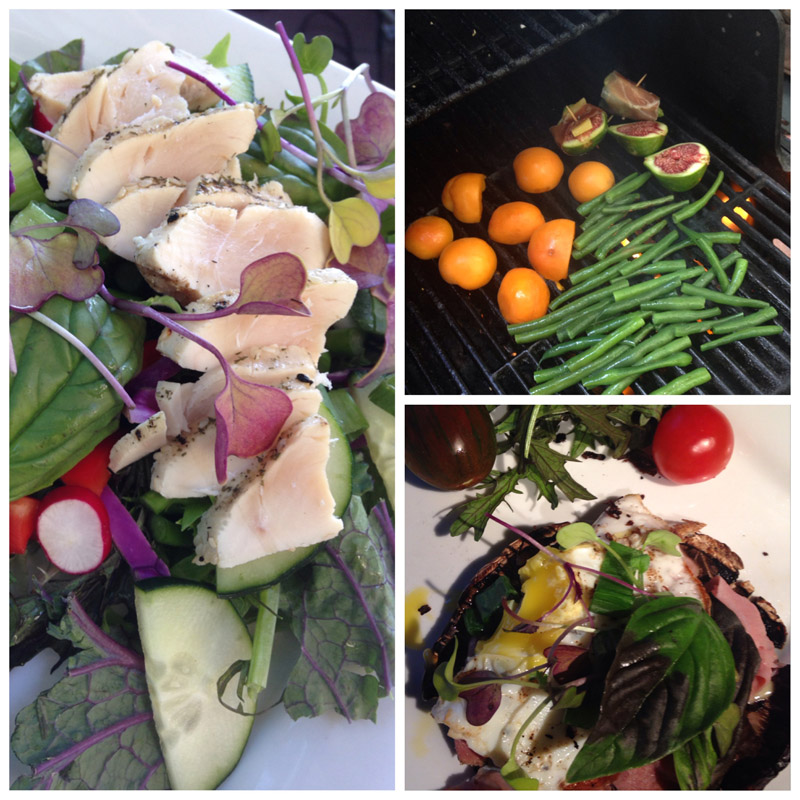 We still have one more large salad worth of greens remaining, a 3 oz. container of Italian onion stems, half a large Ziploc bag each of rainbow chard and red cabbage, and 3 apricots left over. We ran out of the cucumber and red pepper on Wednesday.
Not too shabby.