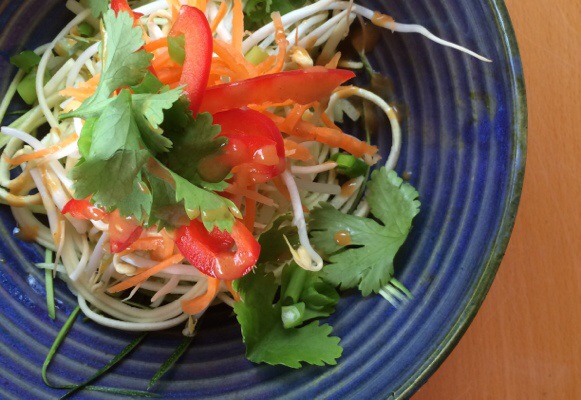 By Elizabeth Whalley, RHN
Has the July heat got you sweating over the thought of turning on your oven? Beat the heat with this week with a fresh take on an ethnic classic: my twist on traditional Pad Thai that can easily be modified to suit any vegan pallet.
The unconventional use of smoked tofu in this recipe is a great way to satisfy any protein craving. Even if you're not a tofu lover I suggest you seek some out and give it a try, you may be pleasantly surprised. Worried about genetically modified soy? Go for organic soy as GM ingredients cannot be certified organic in Canada.
Opting for raw veggie noodles instead of the traditional rice noodles makes for a light, refreshing and super hydrating entrée – great for a supper on the patio or packed up for lunch!
Zucchini Pad Thai
Ingredients:
1 Medium Zucchini
1 cup Bean Sprouts
2 Medium Carrots
½ Red Pepper, sliced
½ Smoked Organic Tofu, cubed*
2 Tbsp Cilantro, chopped
2 Tbsp Thai Basil, chopped
1-2 Spring Onions, sliced on the diagonal
¼ cup Roasted Peanuts
½ Lime, reserve the other ½ for the sauce
*Option: substitute tofu with 2 eggs beaten with 3 drops of tamari & 3 drops sesame oil and cook like an omelette over medium heat, slide on to your cutting board and slice into thin strips.
Satay Sauce:
3 Tbsp Peanut Butter
1 Tbsp Tamari
1 Tbsp Fish Sauce (if vegan use 1 Tbsp Apple Cider Vinegar instead)
 juice of ½ Lime
1 Tbsp Sesame Oil
1 Tbsp Maple Syrup
1 clove Garlic, crushed
1 inch Ginger, thickly sliced
For an extra kick: 1 tsp Thai Red Curry Paste or Sriracha Sauce
Method:
Start by preparing the dressing to allow the flavours to develop. Combine all ingredients in a jar and shake vigorously. Because of the consistency of the peanut butter and curry paste a little hand whisking may be necessary to make a smooth dressing. Keep the ginger and garlic in large pieces, so they can easily be retrieved after they have infused their flavour. In the event that you love the bite of raw garlic and ginger chop it up finely and bring on the heat!
Use a mandoline with a grater attachment to grate the zucchini into "noodles". If you don't have a mandoline you can simply chop the zucchini lengthwise into thin slices and then cut those slices again into thin strips that resemble noodles.
Place the "noodles" in a medium sized bowl and begin to layer the remaining ingredients on top; bean sprouts, sliced pepper, grated or mandolined carrots, tofu (or egg), basil, cilantro, spring onion and peanuts. Drizzle with satay sauce, serve with a lime wedge and enjoy!
Serves 2.