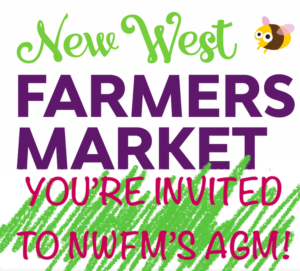 Please consider this official notice of our AGM:
Sunday, February 10th, 1pm-3pm
625 5th Avenue, Suite 701
New Westminster, BC
The New West Farmers Market Annual General Meeting is Sunday, February 10th from 1pm to 3pm at the office space of Billard Architecture at 625 5th Avenue, Suite 701 in New Westminster. Please arrive by 1pm as access to the building is limited on the weekend and someone will be posted at the door until 1pm sharp to let you in.
The meeting will take place in the office space of Billard Architecture. The location is semi accessible and has elevators and an accessible washroom on the main floor. Pay parking is available on site and is conveniently located close to several public transit bus routes.
The meeting agenda will be primarily comprised of an update on this year's activities, goals for the coming year and our financial performance in 2018. It has been a year of personnel changes for the New West Farmers Market and our AGM provides an opportunity to review these changes with members.
If you need any directions to the AGM, please reach out to us at info@newwestfarmers.ca.
What to expect at our AGM this year:
Reports on Our 2018 Year: You will hear reports from two people: Lily, our Market Manager on some of the highlights of the market this year, and Carly, the President, on some of the work we completed in 2018, and some of our plans currently underway.
Elect or Acclaim a Revised Board: Some of the most basic business of an AGM is to elect a new board. We do not take nominations from the floor, and haven't for a few years. We are losing one of our directors this year due to some personal life events and hope to have a few new faces willing to step forward. Nominations close on Saturday, February 3rd.
To vote you must be a member in good standing. If you need to renew or get a new membership, you can do so at the door for $10.
After the business portion there will be treats and socializing.
The excitement is growing. It's going to be a good one. We hope you can join us on February 10th.