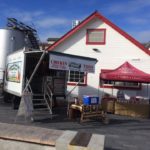 Our names are Tim and Flo Rempel and we are the owners of Rockweld Farm in Abbotsford, B.C.  We raise certified organic fed, BCSPCA Certified, chicken and eggs. Our birds are humanely treated and are non-medicated. We have been SPCA Certified since 2002.
Our certified organic feed is supplied by Canadian Organic Feeds in Chilliwack, B.C.  The feed consists of wheat, corn, full fat soybean meal, limestone, flaxseed meal and minerals. Our birds are processed at a local plant that is federally inspected and the birds are air-chilled.
We sell our eggs and chicken, whole or pieced, from our store right at our farm.  We have many longtime local customers from all over the Fraser Valley and Lower Mainland. 
  Buy local and direct and taste the difference!
    Local…Healthy…Ethical.