Pie for Pride is back!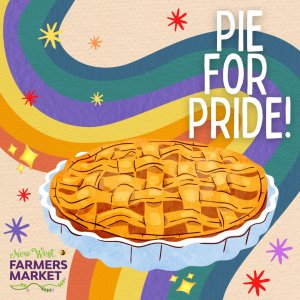 After a two year hiatus we're thrilled to bring back our annual Pie for Pride bake off!
Join us on Aug 11th at 5:30 to watch our esteemed panel of judges taste the pies submitted by your community members. The winner will receive market money, bragging rights and ETERNAL GLORY.
The remaining pie will be sold by donation with all proceeds going to New West Pride!
This year's illustrious judges are
Anita Ansari – school board trustee, past judge (she's serious about pie!), and pie perfectionist.
Alejandro Diaz – owner of a sophisticated palate and El Santo and Nox Restaurants.
Shannon Dolton – Pride President and official taste tester to her home baking wife.
Patrick Johnstone – City Councillor. When Patrick was asked to judge this contest he said, "This is, with not a hint of hyperbole, the greatest thing that has ever happened in my life."
Chelsea Watt – NWFM Board President, avid home baker, and dedicated fan of all things pie.
We hope to see you there!!!