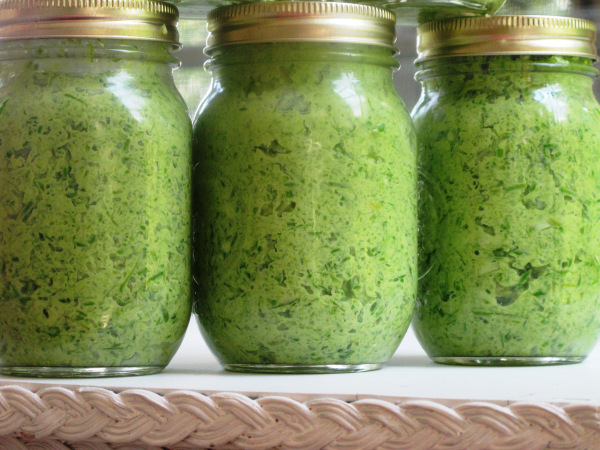 Spring is a great time to clean out your pantry and stock it with delicious local foods. Get ready to include these market must haves in your weekly grocery shop at this Thursday's farmers market.
Pantry Items
Lemon Herb Dressing – Perfect for salads, marinating or stir fry Kics Lemonade
Raw Cold Pressed Oils for cooking and dressing – Ostro Organics
Smoked Salts and Peppers – The Salt Dispensary
Salsas & Condiments – Aji Gourmet
Local Honey – Honeybee Centre
Start Preserving Now
Strawberries
Rhubarb
Spinach
Garlic Scapes
Kale
Collard Greens
Herbs
Radishes
Visit our Preserving & Meal Planning page for tips and tricks on how to preserve the spring time harvest. Also if you are interested in buying bulk strawberries please get in touch with our Market Manager at marketmanager@newwestfarmers.ca.
Don't forget to buy a couple of handfuls of garlic scapes. Here's a post on 7 Things You Can Do With Garlic Scapes!
What's happening at the market this week?
New Vendors
Meet 2 Eat – food truck servicing modern Mediterranean grill food. Serves organic chicken wraps, lamb and beef kebobs, fish and chips, organic falafel and hot dogs
Ostro Organics – small batch manufacturer of certified organic, cold pressed raw oils
Mixers & Elixirs – produces small batch shrubs made in Vancouver harvesting local produce.
A shrub is also known as a drinking vinegar, a sweet and tart fruit based concentrate that can be enjoyed
with soda water or used as a creative mix for cocktails.
Entertainment
For the Kids
Have fun in our Mini Farmers Market play area (free)
The Stage New West is sponsoring a crafty activity under their tent (free)
Douglas College Summer Camps Bean Bag Toss (free)
Face painting with Allyson ($)
For information on where our market is located, how to find parking and transit directions visit our Summer FAQ page.
Download the Ultimate Farmers Market Shopping List to help with your meal planning and purchases for the week.
Farm Fresh Produce
Greendale Herb and Vine – herbs, greens, eggplants
Ripple Creek Organics – strawberries, lettuce, spinach, salad mix, plant starts, radish, garlic scapes (Certified Organic)
Ossome Acres – rhubarb, radishes, pea shoots, spinach, arugula, oak leaf lettuce, eggs, raw walnuts (Certified Organic)
Bose & Sons Family Farm – lettuce greens
Fresh Quality Produce Ltd – berries, fresh greens
Zaklan Heritage Farms – Pac choi, Leaf lettuce, head lettuce, mini gem head lettuce, baby beets, hakurei, radishes (all sorts), salad mix, mustard greens, arugula, swiss chard, kale, baby kale, spinach, mint, sage, oregano, thyme, rhubarb
Country Village Market – strawberries
Nutrigreens – microgreens
Perennials & Potted Vegetable Plants 
Ripple Creek Organics – potted vegetable starts
Greendale Herb & Vine – potted vegetable plants
Zaklan Heritage Farm – potted vegetable starts for the garden
Van Paridon – shade perennials plants for the garden
Cheese & Dairy
Golden Ears Cheesecrafters – Cheddar-Aged Medium, Brie, Jersey Blue, Cultured Butter, Havarti-Aged (Flavoured), Gouda-Aged Medium (Flavoured), Feta (Plain, Cranberry, Garlic Scape), Curds, Neufchatel (Plain, Herb & Garlic), Quark (Plain, Cranberry), Emmental, Velvet Blue
Greendale Herb & Vine – goats cheese
The Local Churn – hand churned gourmet flavoured butters
Beef, Eggs, Poultry and Seafood
Rockweld Farm – BC SPCA Certified frozen chicken and chicken products including eggs, dog and cat food
Urban Digs Farm – sausages and pork products all made locally
Wild West Coast Seafoods –  flash frozen fillets of Rock Sole, Petrale Sole, Rockfish, Ling Cod, Pacific Cod, Sablefish, Chinook/Spring Salmon, Coho Salmon, Sidestripe Shrimp, Halibut, Albacore Tuna Loin.
Vale Farms – Beef, Lamb, Chicken, Turkey, Beef Broth, Pork all 100% grass fed (Certified Organic)
Local Beef & Eggs
Artisan Breads
A Bread Affair – breads, baguettes, ciabattas, rolls, scones (Certified Organic)
Gluten Free Breads & Baking
Bakery
Sweet Thea Cakes – tarts, pies, cookies and cakes
Samaya Delights – turmeric muffins, baklava
Solodko Bakery – Ukrainian-style buns with cherries, blueberries, apple; poppy seed rolls, chocolate rolls
Simply Scones – traditional English style scones
Coffee & Snacks
Green Coast Coffee – hot pour over coffee
Gary's Kettlecorn – kettle corn (traditional and caramel)
Food Trucks & Eat On Site
Disco Cheetah – fusion Korean food truck
Meet 2 Eat – food truck serving Middle Eastern inspired food
Rain City Juicery – cold pressed juice made in New West
Country Village Market – traditional pakoras
Prepared Food (Dry Goods & Seasonings)
Prepared Foods (Pantry Staples)
Health and Beauty
Mediterra Soaps – soaps and personal care products
Jewelry & Artisan Crafts
Wine, Beer & Spirits
Special Thanks to our Music Stage Sponsor Roland Kaulfuss: