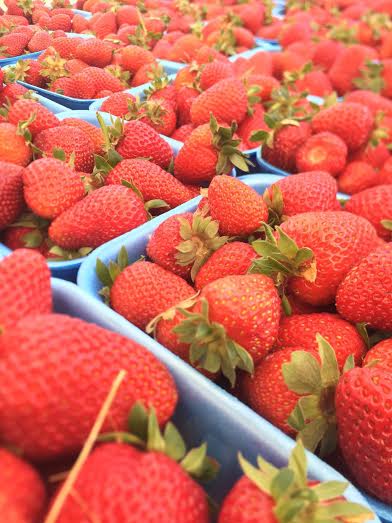 Are you ready for BERRY MADNESS? Berries will be making their first appearance at the market this week. You can find these juicy fruits nestled among Country Village Market and Ripple Creek Organic's stall. Also making an appearance this week is another market favorite… garlic scapes!
There aren't quite enough berries for big batch preservation just yet so to tide you over here is a recipe for quick and easy refrigerator jam. We also have recipes for making garlic scape pesto and recipes for 10 different delicious salads!
Are you curious about all the different types of lettuce at the market? Find out the best uses for each kind of lettuce with this Visual Guide to Salad Greens. Check out our Preserving & Meal Planning page of our website for lots of cooking inspiration.
What's happening at the market this week?
New Vendors
Vale Farms – Certified Organic Meat Products
Entertainment
For the Kids
Have fun in our Mini Farmers Market play area (free)
The Stage New West is sponsoring a crafty activity under their tent (free)
Face painting with Allyson ($)
For information on where our market is located, how to find parking and transit directions visit our Summer FAQ page.
Download the Ultimate Farmers Market Shopping List to help with your meal planning and purchases for the week.
Farm Fresh Produce
Greendale Herb and Vine – herbs, greens, eggplants
Ripple Creek Organics – strawberries, lettuce, spinach, salad mix, plant starts, radish, garlic scapes (Certified Organic)
Ossome Acres – rhubarb, radishes, pea shoots, spinach, arugula, oak leaf lettuce, eggs, raw walnuts (Certified Organic)
Bose & Sons Family Farm – lettuce greens
Zaklan Heritage Farms – Pac choi, Leaf lettuce, head lettuce, mini gem head lettuce, baby beets, hakurei, radishes (all sorts), salad mix, mustard greens, arugula, swiss chard, kale, baby kale, spinach, mint, sage, oregano, thyme, rhubarb
Country Village Market – strawberries
Nutrigreens – microgreens
Potted Vegetable Plants 
Ripple Creek Organics – potted vegetable starts
Greendale Herb & Vine – potted vegetable plants
Zaklan Heritage Farm – potted vegetable starts for the garden
Cheese
Golden Ears Cheesecrafters – Cheddar-Aged Medium, Brie, Jersey Blue, Cultured Butter, Havarti-Aged (Flavoured), Gouda-Aged Medium (Flavoured), Feta (Plain, Cranberry, Garlic Scape), Curds, Neufchatel (Plain, Herb & Garlic), Quark (Plain, Cranberry), Emmental, Velvet Blue
Greendale Herb & Vine – goats cheese
Beef, Eggs, Poultry and Seafood
Rockweld Farm – BC SPCA Certified frozen chicken and chicken products including eggs, dog and cat food
Wild West Coast Seafoods –  flash frozen fillets of Rock Sole, Petrale Sole, Rockfish, Ling Cod, Pacific Cod, Sablefish, Chinook/Spring Salmon, Coho Salmon, Sidestripe Shrimp, Halibut, Albacore Tuna Loin.
Vale Farms – Beef, Lamb, Chicken, Turkey, Beef Broth, Pork all 100% grass fed (Certified Organic)
Wheelhouse Seafoods – seafood pasta and crab cakes
Local Beef & Eggs
Artisan Breads
A Bread Affair – breads, baguettes, ciabattas, rolls, scones (Certified Organic)
Gluten Free Breads & Baking
Delish Gluten Free – bread, scones, muffins, brownies and cookies
Marie's Guilt Free Baking – bread, cookies, pizza dough and snacks
Bakery
Coffee & Snacks
Green Coast Coffee – hot pour over coffee
Gary's Kettlecorn – kettle corn (traditional and caramel)
Food Trucks & Eat On Site
Gypsy Trunk – vegan burritos, quesidallas and sausages
Old Country Perogi – perogies, sausages and polish delights
Country Village Market – traditional pakoras
Prepared Food (Dry Goods & Seasonings)
The Raw Guy – kale chips, cookies and seasonings
Greendale Herb & Vine – Nuts (hazelnuts), Muesli, Infused Vinegars, Popcorn Kernels, Herbal Teas, Dried Lavender
Prepared Foods (Pantry Staples)
Health and Beauty
Jewelry & Artisan Crafts
Bits & Keys – funky jewelry and fun cross stiches
Stones & Weaves – jewelry featuring leather and gem stones
Lighten Up Jewels – timeless pieces made with love
Faye – The Art of Melissa Mary Duncan, prints, paintings and more
New World Felting – beautifully made felted scarves, hats
Wine, Beer & Spirits
Dragon Mist Distillery – locally made vodka and gin
Special Thanks to our Music Stage Sponsor Roland Kaulfuss: