Meet Michelle and Kathryn of Kiki's Kitchen!
Q: How long have you been in the soup business?
A: We began at home in January of 2015 and started the commercial kitchen in January of 2016.
Q: What's your future plans?
A: We want to offer home delivery service and expand to more farmers' markets that are located further afield. Also moving into a brick and mortar store in 2017.
Q: Where is the kitchen located?
A: In North Vancouver in the Northshore Auto Mall.
Q: What's your favourite soup?
A: Michele's favourite is the roasted corn and potato. chowder (sorry – it's offered during the summer only!)
Kathryn's is the lentil.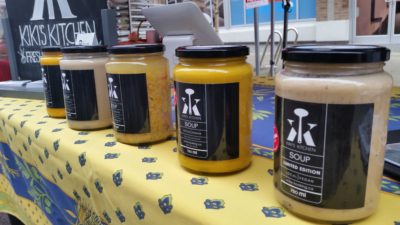 Q: What excites you about your business?
A: We buy directly from farmers or from discovery organics. We've had the opportunity to meet and support female farmers. We also get to pick some of our own stuff to make the soups!
Q: Do you have a company mascot
A: Dogs! We have two ridgebacks and a Scout [RCFM note – Scout is a dog, not a breed!]. All soup is dog approved!
Check out their instagram for some great foodie-porn pics as well as some Scout and ridgeback photos!
They also have a website and you can follow them on Twitter and Facebook.