Oh. My. Goodness.
Wow!
Is that real?
It can't possibly be bread, it must be cake!
They assured us it was bread.
Chocolate bread!!!
Last week was the final week of the summer market bringing the $40 market-spending challenge to a close. And in proper, good Katie form, I went all out.
Early in the challenge, I would never have purchased an $8 loaf of bread, chocolate or not. My spending was based on a strict budget where veggies took precedent. But, as the summer market started preparing for fall, the veggie selection became less vast, and, well, sometimes you really do need a reward for doing a great job.
I think I did a great job; chocolate bread was my reward.
Sadly, I did not read the ingredients. I did not realize there was orange infused into that bread. I do not eat orange-infused sweet treats; haven't since I was about five years old and some totally evil person decided to underhandedly slip marmalade onto my toast – blech! In my mind, orange does NOT belong in chocolate.
Sigh.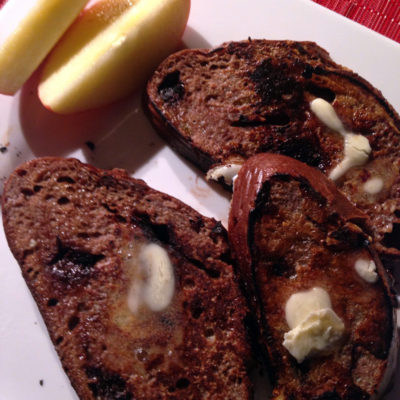 FINAL WEEK'S LOOT:
Zaklan Heritage Farm:                                     • 2 bunches of mustard greens: $5
1 mini lettuce: $2
2 purple onions: $2.65
1 bunch parsley: $2
Ossome Acres:                                         • 1 zucchini: $2
Ripple Creek Organic Farm:                    • 1 garlic: $3
A Bread Affair:                                           • Chocolate bread: $8
Wild West Coast Seafoods:                     • 1 lb tuna: $16
Total spent was $40.65. 
When I started this challenge 16 weeks ago, I didn't know what exactly it would present. I considered our family on the upper scale of health prior to going in, but admittedly we were a bit stale and stagnant in meal planning, eating the same-old, same-old week after week.
The market changed that.
It gave us new foods, new recipes, new cooking adventures, new menus, new tastes, new perspectives.
This is what the market gave my family: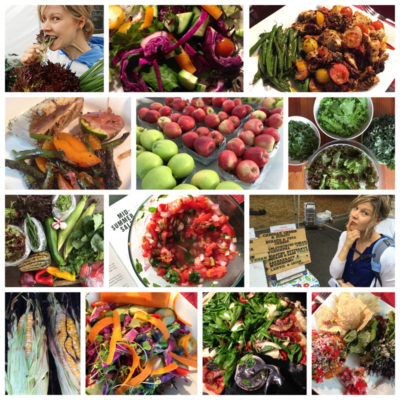 In my first post of this challenge, I asked if the market was true to its negative stereotype of being "too expensive," a sentiment I have heard echoed several times by my fellow Food, Nutrition and Health peers at UBC. After 16 weeks, I can handedly say that yes, some of the product is pricier than you'd get at grocery stores. But, and this is a huge but, the quality, flavour and freshness is bar none far superior to that of the chains.
When you know your food was picked that day, when you know your food hasn't undergone chemical procedures to stall the ripening process, when you know every bite is going to be infused with an intense flavour that tickles your differing taste buds, when you know it's going to last longer than a few days, as long as a FEW weeks even, that has to be factored into the budget.
When you know how to shop the market, as I quickly learned, when you know how to search out the best deals (two for $5 mustard greens made my list EVERY week), when you know how to plan, when you build relationships with the farmers, when you know how to use so-called wastes to your advantage (onion stems was a favourite discovery), you DO see a savings.
We did.
We stopped going to the veggie stand three times a week; our foods were lasting. We stopped buying salad dressings; the intensity of the greens didn't require added flavouring. In meal planning, we started looking at multiple ways of using the entire vegetable – limited waste, so an environmental savings as well.
There were challenges. A vegetable one week was not guaranteed the next; something you had hoped would be there, didn't make the cut that week; if you weren't there early, chances were the items you wanted were all gone.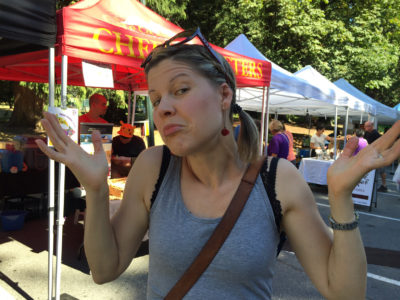 Our final market meal was a trusty favourite we discovered the third week of the challenge – tuna loin. Unfortunately it had jumped in price since the beginning of the summer; what cost $12 in June, cost $16 in October due to a "crummy" season. It meant fennel was scratched from the list. It meant none of the maybes on the list would get into our bag. But man, that tuna – a drool-worthy, dream-worthy delicacy! Worth every sacrifice. Worth every penny.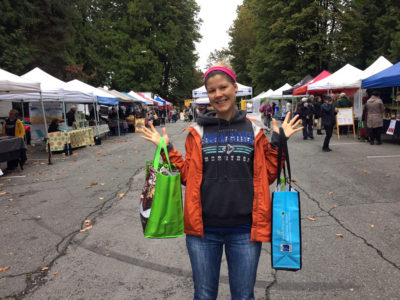 Dear summer market, so much of you I shall miss.
Luckily, winter is coming!
Winter market starts November 5, and runs the first and third Saturday of the month, uptown on Belmont street.
See you there.