I was under the Zaklan Heritage Farm tent and my $40 budget was fast dwindling. I had $6 allotted to spend on fingerling potatoes. The German butter potatoes of the week before were so melt-in-your-mouth good, we wanted to see how the fingerlings would compare. I didn't want to go over budget, and I didn't want to go under. I wanted $6 exactly.
I grabbed a handful of the potatoes and put them on the scale. I was under budget. For two to three minutes more, I kept running back and forth adding one potato at a time. When I surpassed $5, I methodically searched the pile and removed the smallest ones to bring the cost back down. Courtney, the woman behind the Zaklan cash table, couldn't help but laugh and tease me every time I changed the amount on the scale. She didn't roll her eyes, she didn't get exasperated, she thought it was pretty silly, but she was willing to appease me, especially given there were no others behind me.
This is a regular occurrence for me. I've done it with English snap peas, green beans, pickling cucumbers, broccoli, and more at various tents.
I would never do this at the grocery store, or even the local mom and pop vegetable stand.
What's different?
The farmers.
The market is not a quick in-and-out shop for me, and I don't want it to be. I enjoy the relationships that I have built with our farmers. I enjoy the casual chit chat, and education they give me nearly every week. These farmers are so invested in their vision, it's not put on the backburner for a quick sale.
They want you to be happy. They want you to be more than satisfied with their products. They go the extra mile. They give you $1.50 worth of green beans when all you've got to spare is 60 cents. They round down, not up. They tell you, in depth, about what they're growing, how they're growing it, and why they're growing it in a specific way. They work with you.
They even put up with your odd idiosyncrasies (see above).
It's not just me they're doing this for. I've seen it done countlessly for others as well. Just last week, a shopper was standing before all the fresh Okanagan fruits at the Harvest Direct stand. She didn't want a basket of just one fruit, she wanted a little bit of everything. So, she asked. Ask and you shall receive: Param made her up a $10 basket that included apples, peaches, plums, and apricots. He didn't look put out at all. In fact, he asked if there was one fruit in particular that she'd like more of than the others.
Beyond local, it is service like that that makes me keep wanting to come back for more.
It makes a difference.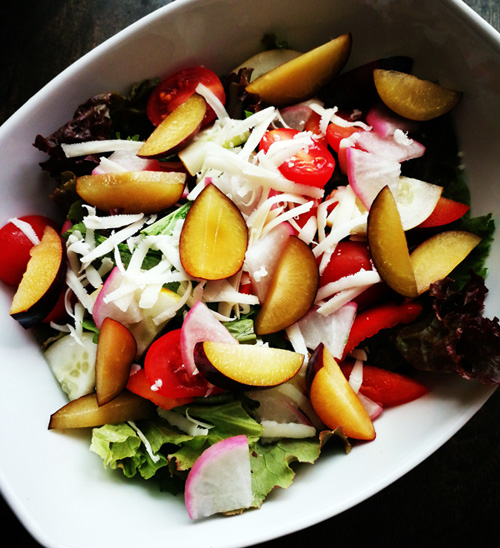 This week's loot:
Zaklan Heritage Farm
1 bunch pizzo mustard greens $3
1 bunch mizuna mustard greens $3
1 bunch radishes $2.50
1 bunch rainbow carrots $3.50
1 garlic $2.85
2.04 lbs fingerling potatoes $6
Ripple Creek Organic Farm
1 cucumber $1
1 GIANT head red-leaf lettuce $3.50
Harvest Direct Farms
1 basket plums $5
1 basket sunrise apples $5
Fresh Quality Produce
2 zucchinis $1.5
1 bag of green beans $3
Total spent: $39.85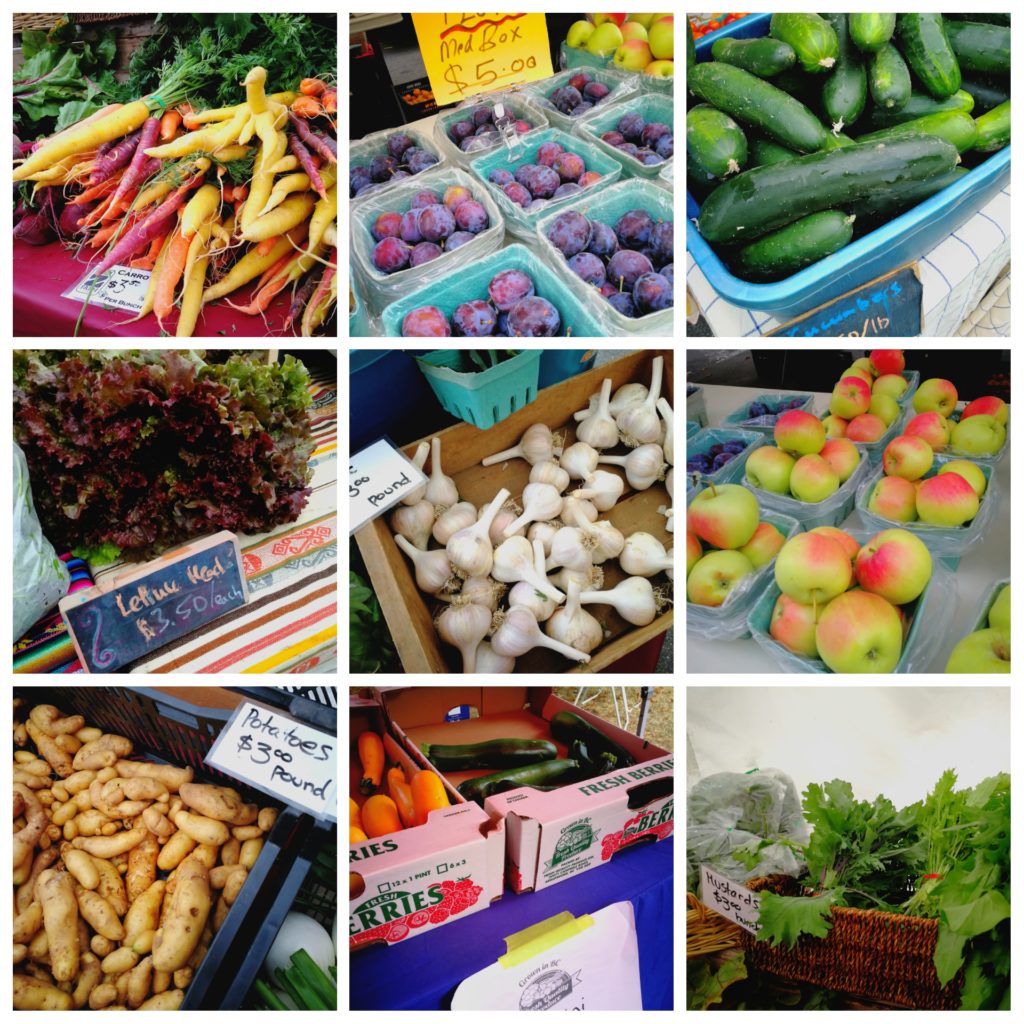 The mustard greens made their way into 5 dinner salads and 4 lunch salads with leftovers for the week ahead. The red leaf lettuce was so huge, as of Wednesday afternoon, its leaves were still filling the salad spinner. There were six carrots that were used in both salads and snacks. The bunch of light pink radishes, which had a mighty kick, were allotted mostly for side dishes and salads, and were still abundant as of writing this post. The small dark purple plums were a burst of tartness that we ate on their own, in salads, or mixed in berry fruit bowls. The sunrise apples were a combination of sweet and tart, and were the perfect snack-sized apple. We grilled the green beans, zucchini and fingerling potatoes.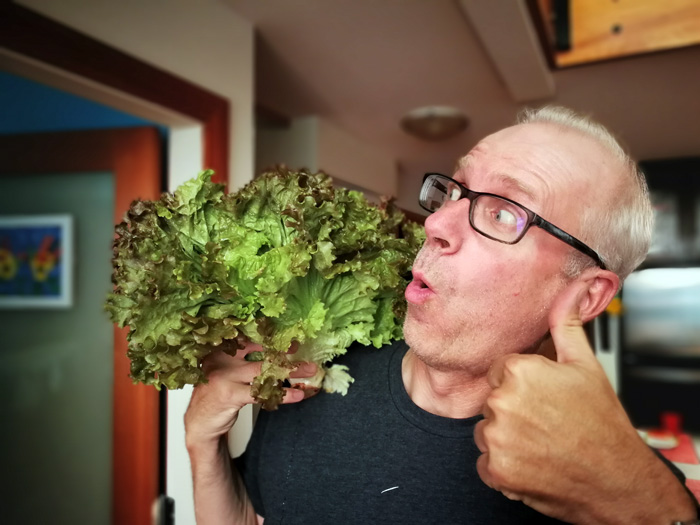 When I asked about the fingerling potatoes, I was told they were somewhat similar to the German butter potatoes. And when I heard that, I translated it as being exactly the same.
They were not.
When grilled, the German butter potatoes were a rich, melt-in-your mouth smoothness on the inside, yet crispy with a touch of sweetness on the outside. The fingerlings were not. I felt they were more starchy in taste, and the inside was more of a mealy texture, the kind you get from regular old potatoes.
I guess once you've had German butter, no other compares.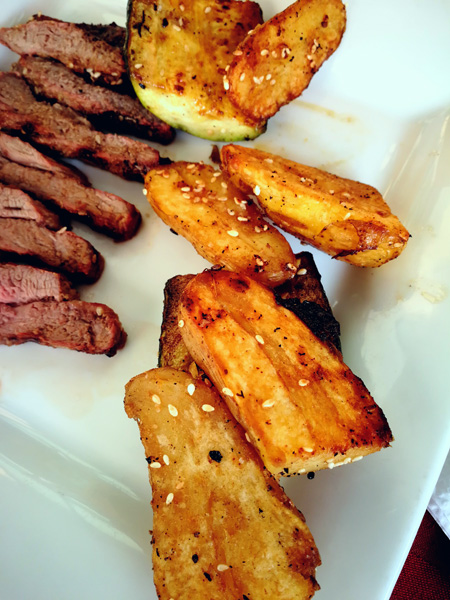 ---
Originally published on local blog Tenth to the Fraser, The Farmers Market Challenge, written by Katie Bartel (and the odd guest star) seeks to challenge the notice that you can't get hardly anything for $40 at the farmers market. Each market, Katie explores what's the best deal, and discovers food she's never heard of.