I am not a cook. At least, not until recently.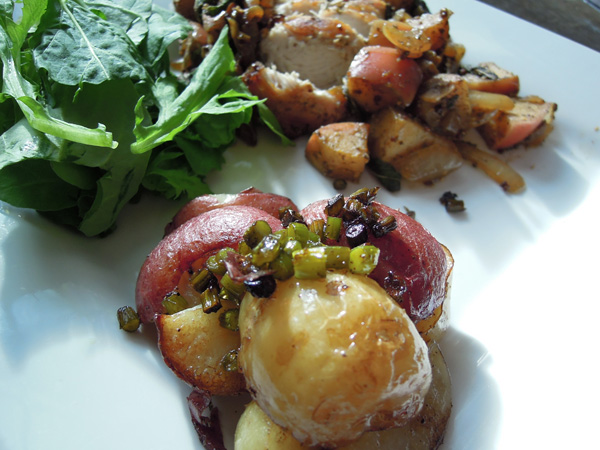 I have long avoided the kitchen. I used to live off eggs and grilled cheese before my husband came along. I developed a brilliant backstory of not cooking due to fears of poisoning myself and others. Note, my avoidance is likely more due to laziness than lack of skill that's kept me off the grill. Whenever my parents, who are brilliant chefs, cooked, the sink would be stacked high of dishes; I hate doing dishes. Whenever I tried my hand at cooking, it seemed to take hours of prep work, hours that I could have been doing something more enjoyable. And so, that's what I did – anything but cook.
And yet, here I am, one year into this $40 challenge, and last week I cooked a meal not once, not twice, but three times – two meals back to back. That is unprecedented. One meal a week, even, is unprecedented. Seriously, minds were blown. And not only that, it wasn't just my husband and son I was cooking for, I had my parents over one night as well. What on earth has gotten into me?
The farmers' market.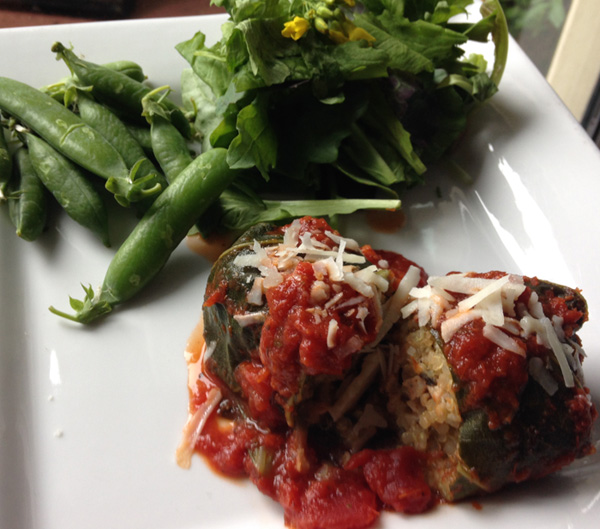 The farmers' market is both exciting and challenging. I love food, I love exploring the world of food, I love learning about foods, and sampling new-to-me foods. The only thing I didn't enjoy, until recently, was preparing it.
And that's where the challenge comes to play.
I am competitive as heck. I compete for faster times when running, I compete for the best grades when studying, I compete for optimal health, and when a journalist, I competed for the best-written articles.
What can I say, I love accolades.
The world of cooking is full of accolades.
When I am able to take a food and transform it into something that brings joy not only to my stomach but to others as well – whoa! The smiles it brings to their faces, the verbal amazement that I, the non-cook, could achieve such culinary excellence, the going back for second and third helpings, the sheer bliss of discovering a new food at my hands – it's like running a marathon and having the loudest cheer crew on the sidelines enthusiastically championing your name.
It doesn't always come out perfect, sometimes there are criticisms, sometimes they plain don't like what you put before them, and that sucks. But those times when you present them with a vegetable that they otherwise wouldn't eat, like say my husband and summer squash, and they wolf it down and start in on a second serving before you've even had a chance to swallow your first bite, that is a 10.0 gold medal victory!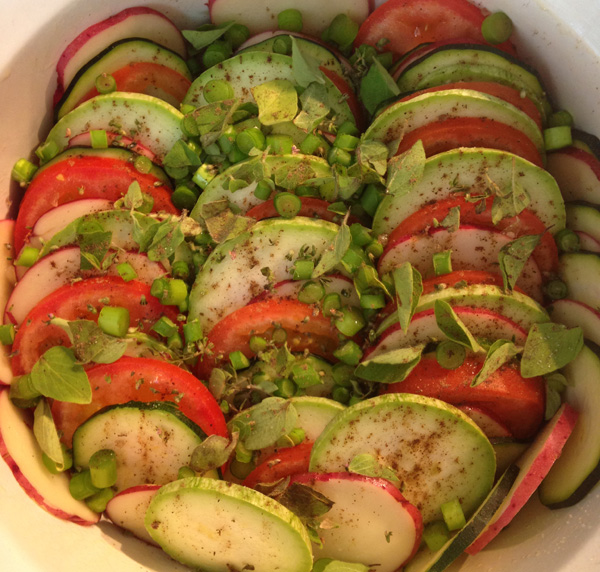 I am not saying I am going to become a regular, every day chef, nope, that's not in the cards for me. But, it seems, this farmers' market thing is slowly turning me into a part-time cook.
Whoa. Mind blown.
Market Loot
Zaklan Heritage Farm
2 bunches of collard greens $6
1 bunch pizzo mustard greens $3
Ripple Creek Organic Farm
2 basil plants $5
1 bunch garlic scapes $3
Fresh Quality Produce
1 bag English snap peas $5
Mandair Farms
1 small container strawberries $5
1 summer squash $1
Harvest Direct Farms
1 small container cherries $6
Solecito Salsas
1 container mild (with a kick) salsa verde $6
Total spent: $40
The three meals this week included a quiche that featured the green garlic I had leftover from the previous week's market, Italian stuffed collard greens that I discovered a couple weeks ago and had to share with my parents, along with a rhubarb crisp dessert using rhubarb from the previous week, and finally a chicken apple sage dish with roasted potatoes and garlic scapes. I also made Mexican sunny-side up eggs for lunch that featured the salsa verde (oh my gosh, so good) scapes and squash using a recipe that Solecito gave me at the market. Links for the recipes below.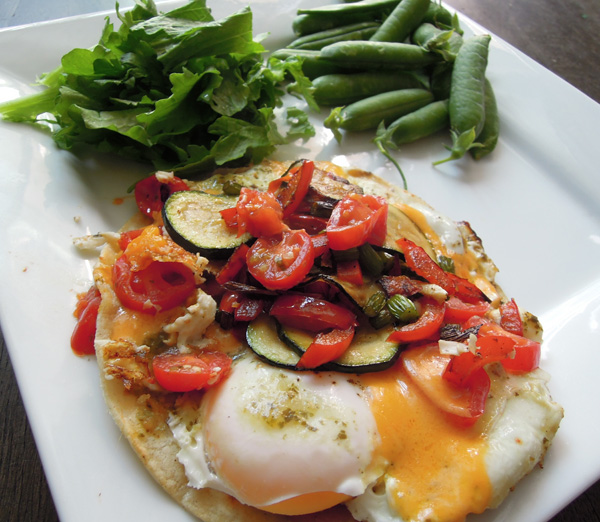 Of note, garlic scapes have pretty much been featured in every meal for the past two weeks whether roasted, or fresh in a salad, or sauteed in butter. I love the garlic essence they ooze with every crunch. I never knew garlic scapes existed prior to being introduced to them at the New West Farmer's Market last year.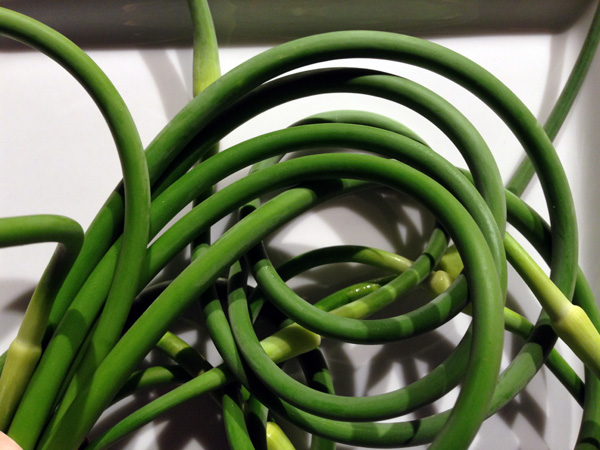 Also noteworthy, the English snap peas. I had a choice between sugar snap peas or English snap peas. The difference was the flavour and the fact you could eat the pods with the sugar snap peas, but not the English. Given my self-proclaimed laziness you might be surprised at my opting for the English over the sugar, but funnily the thing I liked about the English snap peas is the time it took to open the pods. I was less likely to eat a whole bag in two minutes like I probably could with the sugar snap peas. Plus, opening those pods and having peas fly everywhere was both fun for me and my son, who, by the way, LOVES them. Veggie win!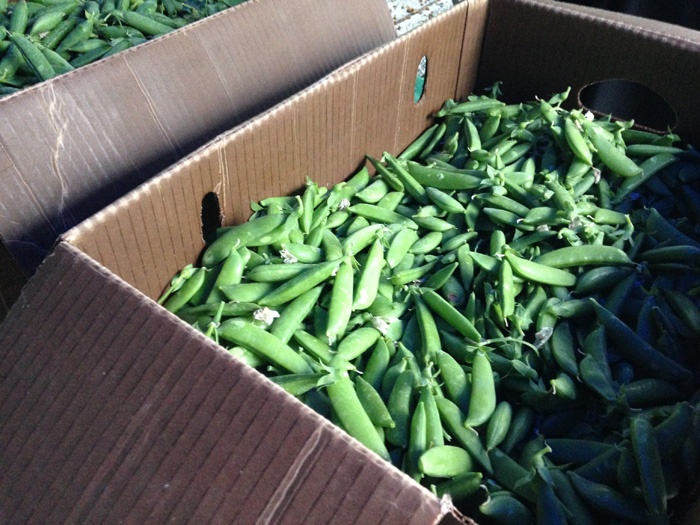 Links for this week's recipes:
---
Originally published on local blog Tenth to the Fraser, The Farmers Market Challenge, written by Katie Bartel (and the odd guest star) seeks to challenge the notice that you can't get hardly anything for $40 at the farmers market. Each market, Katie explores what's the best deal, and discovers food she's never heard of.