As a home cook, I enjoy trying new recipes and challenging myself with techniques and cooking styles that I'm not familiar with. Some foods are more challenging in technique, but I often seek out recipes that are the opposite, and pasta is one of those. Homemade pasta is simple at its finest. The experience of making pasta is extremely tactile and very rewarding. It takes time but is worth it in every way. The best part is that you can make it with minimal equipment, just a rolling pin and sharp knife, if you don't own a pasta roller. The pasta roller definitely doesn't tone your arm muscles the same way as using your hands, so there are benefits to a minimalistic method.
Cooking has unwittingly become a form of stress relief and source of relaxation for me. It hones my focus, and since I am terrible at sudoku or any other mind building puzzles, I choose the kitchen. In the lead up to cooking and hosting a big Thanksgiving dinner, I was pretty desperate for some 'me' time in my kitchen, so pasta was the perfect choice. I went a bit overboard and made 3 different colours of noodles and a variety of shapes. I was so carb loaded that I ignored the creamy mashed potatoes on Thanksgiving!
~ Alyssa
Notes:
In my pasta, I use a mix of 50% semolina and 50% all purpose flour to achieve my preferred texture. The semolina flour is low in protein and elasticity with high plasticity and results in a smooth, firm pasta noodle that holds its shape well after rolling. By combining it 50/50 with all purpose flour, the pasta ends up with a slight roughness that holds sauce well while holding its shape and texture effectively. Semolina flour can be found at most grocery stores locally. For this recipe I bought a fine grind semolina, 00 semolina, at Donalds Market, in the River Market.
To make different coloured noodles, the water in the recipe is substituted with 2-3 tablespoons of vegetable puree. Carrot puree will add a warm yellow tone, tomato paste is a, orange colour, beet puree make a beautiful purple colour, and spinach makes green pasta. Adding a teaspoon or 2 of turmeric is an easy way to make a bright yellow pasta!
Basic Pasta Recipe
Ingredients
1 cup AP flour
1 cup 00 semolina flour
3 large eggs
1 tbsp olive oil
1-2 tbsp water
Pinch of salt
Directions
Combine the flours and salt in a large shallow bowl, and make a well in the centre.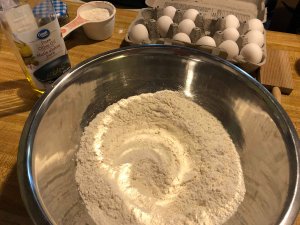 Crack in the eggs, then add the oil and water (try with 1 tbsp to start). With a fork, start mixing the wet ingredients, slowly mixing in the flour.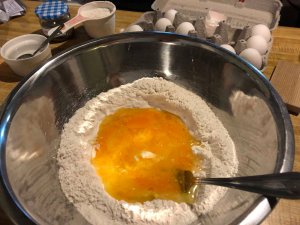 A shaggy dough will form fairly quickly.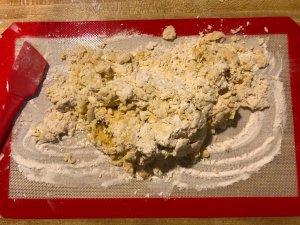 At this point, flour your working surface and knead the dough for at least 10 minutes.Knead the dough until completely smooth and elastic (it will be stiff). Lightly coat the ball of dough with oil and wrap with plastic wrap.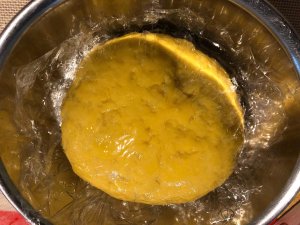 At this point, the dough should be left to rest for at least half an hour. I leave it on the counter for this but you can rest it for longer in the fridge. If you do not let the dough rest, it will not roll properly.
Take the rested dough and cut it into 4 pieces. With the remaining 3 covered, its time to roll the pasta. When rolling pasta by hand, it takes patience. I have done it many times, although it is much easier now that I have a rolling machine. Using a rolling pin, roll the pasta until it is very thin. According to the 'pasta professionals', the pasta sheet should be transparent enough to read words through. Keep the surface and your rolling pin floured to prevent sticking.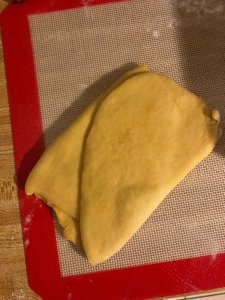 Once the pasta sheet is rolled, flour it again and fold it into quarters, then cut to make long noodles of your preferred thickness. Unwrap the noodles and either lay them flat, or wrap them into a little nest until you have rolled the rest and are ready to cook.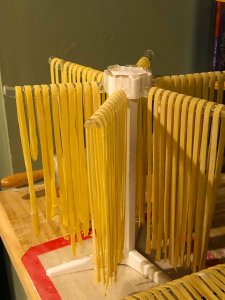 When using a machine, ensure the rollers are floured and start at the widest setting, rolling through at least twice on each setting. For cut pastas like spaghetti or linguini, roll it to setting '2' or the second from the smallest, and for filled pasta, roll to 1.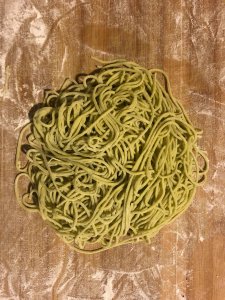 This pasta freezes well, and I have dried it as well to preserve it. Properly dried pasta can be stored for up to a year, frozen pasta should be used within 3-6 months.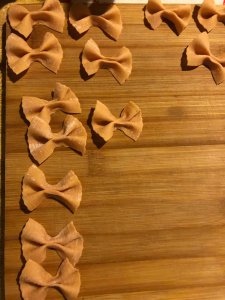 To cook the noodles, bring a large pot of salted water to a rapid boil, and add the pasta. Fresh pasta should take only 1-2 minutes, frozen takes approximately 1 minute once the water returns to a boil, and dried pasta takes 5-10, depending on the cut.