The next market will take place on July 13, 2017 at Tipperary Park, New Westminster (see map below) .
Come join us this Thursday for our market in the park, sunshine and blueberries are on the menu! Meet up for some dinner and desert, fill up your baskets full of local goodies and enjoy a nice evening with us!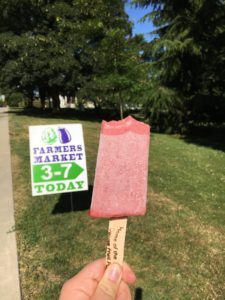 Karma Teachers will be hosting another edition of Yoga in the Park this week, starting at 5:30!
At our Community Booth this week: Sarah Peerless, a master's student at Royal Roads University, will be conducting a research project on urban forest values and willingness to volunteer for urban forestry stewardship programs. The research objective is to increase the understanding of why people might volunteer for urban forestry stewardship programs by examining the relationship between volunteer motivations and values held for the urban forest. Sarah is looking for residents of New Westminster to take part in a 15-minute anonymous online survey. Please stop by the Community Booth to learn more about the research and our wonderful urban forest, or take the survey here.
Alcohol
Artisans
Prepared Foods
Farm Vendors
Meat Vendors
Baked Goods
Dairy
Food Trucks
Getting Here