The next market will take place on April 1, 2021 at Tipperary Park .
Join us on April 1st in Tipperary Park for our first market of 2021!
New West Parks and Rec have hidden golden eggs with prizes inside throughout the market for Easter. Swing by and find one!
AND it's Member Appreciation Day! Check out the deals below!
We are open from 3-3:15 for priority entrance (seniors, those with small children, and those with disabilities). 3:15-7pm is general entrance.
You can find the entrance for our market at the Queens Ave end of the Tipperary Park parking lot. *New this year* the exit is in front of City Hall.
Don't forget our COVID safety protocols:
– NO dogs
– keep your distance
– one entrance and one exit
– a fully enclosed market
– only shop in one direction (do not double back)
– limited numbers of shoppers inside at any given time
– please wear a mask!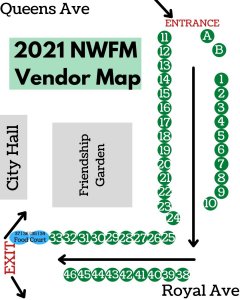 THIS WEEK'S VENDORS:
NEW Vendors:
(43) BAK'D Cookies (giant gourmet cookies)
(41) Bannock Queen (bannocked based bakery)
(42) Empanada Gals (frozen empanadas and tamales)
(27) Flurer Smokery (smoked fish)
(28) Gingeraki (ginger and turmeric wellness shots)
(39) LemonJarz (dried lemons and citrus)
(29) Pastaggio (fresh pasta and sauces)
(40) Soul Light Microgreens (pea shoot, radish, cilantro, wasabi, broccoli and sunflower microgreens)
Returning Vendors:
In the Food Court:
Bread and Cheese Truck
Artisans:
(25) Handcrafted Personal Touch
(30) Th!nk Soap
Bakeries:
(13) A Bread Affair
(18) Marie's Guilt Free
(16) Occasionally Honey
(20) Oh Sweet Day!
(38) Sweet Thea
Beverages:
(19) BC Wine Studio
(2) Mukasi Coffee & Co.
(7) Odd Society Spirits
Confections:
(31) Drunken Chocolatier
Dairy:
(17) Golden Ears Cheesecrafters
(9) Mt Lehman Cheese Co.
Jams, Preserves and Honeys:
(3) Anne's Kitchen
(1) Golden Meadows Honey Farm
Prepared Foods:
(23) Amazing Foods BC
(4) BobAli Foods
(11) Gary's Kettle Corn
(8) Island Jerky
(6) Koji Fine Foods
(5) Morgan's Harbour
(15) Plantbase
(26) Scratch Fine Foods
Produce Farmers:
(21&22)Andor Farms
(14) Mandair Farms
Protein Farmers & Fish:
(12) Outwest Ranches
(A) Rockweld Farm
(B) Wild West Coast Seafoods
Member Appreciation Day!
Have you heard? There are perks to supporting the market by becoming a member!
The first market of every month, our amazing members will get to enjoy rewards from certain vendors. For April's Member Appreciation Day, find the following awesome promotions:
A Bread Affair $2.00 baguettes (instead of $4.50)
Amazing foods 10% off
Drunken Chocolatier buy a nine piece box and get an extra truffle
Gary's Kettle corn $1 off large bags of popcorn
Island Jerky $5 per unit of Beef Jerky (regular $7), limit of 2
Lemonjarz 10% off the Mixed Citrus Packs
Mukasi Coffee & Co 10% off on coffee beans
Oh Sweet Day! 10% off
Plantbase 10% over $20
Rockweld chicken wing sale: Buy 1 pkg – Get the 2nd pkg half price
Getting Here