The word "superfood" gets thrown around a lot these days, often featured on the label of a never before seen fruit from deep in a distant rainforest.  That says two things to me; after traveling so far there is no way it's still alive and it has nothing to do with our southern British Columbia ecosystem. With all the hype around exotic superfoods, people tend to forget about the great superfoods grown right here in our own backyard!
Kale is one of my all time favourites, its versatility means it can be incorporated into almost any recipe and hardiness means it can be grown locally all year round. Its high fibre content aids in detoxification of the digestive system (including the liver) and supports a healthy heart by encouraging excess cholesterol out of the body. Kale and the rest of the cruciferous vegetable family (like broccoli and cabbage) have amazing anti-cancer properties; they support both the detoxification of cancerous cells and the cancer fighting components of the immune system. On top of all that kale is a great source of antioxidants (also very anti-cancer), vitamins (K, A, B6 and C), minerals (calcium, magnesium, potassium and manganese), and even omega-3 fatty acids!
Packing lots of this powerful superfood into a light springtime meal is simple with the help of Urban Digs Farm and their tasty parsnips.
Parsnip and Kale Soup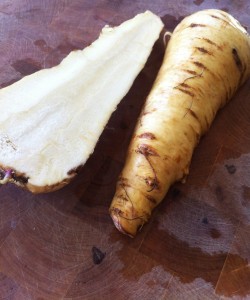 Ingredients:
1 Tbsp olive oil
1 Tbsp butter
1 medium onion, chopped
2 cloves garlic, chopped
2 large parsnips, chopped
1 ½ cups kale, chopped
1 litre stock (vegetable or chicken works best in this recipe)
1 Tbsp Dijon mustard
Salt and pepper to taste
Melt butter with olive oil in a large saucepan over medium heat.
Once butter has melted, sweat onions and garlic until translucent.
Add chopped parsnips and sauté for a few minutes, add stock and reduce heat to medium-low and simmer for 30 minutes to an hour, the longer you leave the soup to reduce the sweeter the parsnips will become.
After simmering use an immersion blender to partially blend the mixture, while the soup is still hot add the kale and Dijon mustard and continue to blend until desired consistency is reached.
Simmer for a few minutes more, season to taste and serve.
 Reference: WhFoods.com.