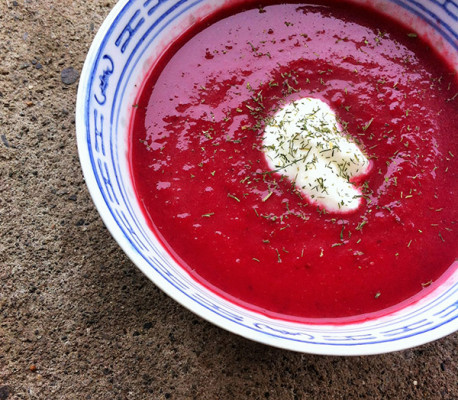 By Elizabeth Whalley, RHN
Spread the love this February with this heart-y healthy soup, chock-full of winter market staples! Beets are not only high in fibre (essential for moving cholesterol out of your colon), but they are also a great source of potassium (a key mineral in maintaining a healthy blood pressure). This powerful heart-saver is paired with the incredible cholesterol fighting super powers of the humble cabbage.
My borscht has even more hearty flavour for your heart to enjoy with a few simple twists on tradition;
Forget the pesky peeler and leave the skins on for even more fibre
Add a dash of cayenne or red pepper flakes for a kick AND a great boost in circulation.
Swap your regular refined salt for a pink (Himalayan rock) or grey (unrefined sea) salt and reap the benefits from less sodium
Roasted Beet Borscht
Ingredients:
3 large red beets
1 large onion, diced
1 small head cabbage (I used a neat heirloom variety I found at the market; January King)
1 1/2 – 2 litres of vegetable stock (or if your feeling particularly resourceful make your own veggie or chicken stock, the flavour is always unbeatable!)
2 Tbsp apple cider vinegar (a beautiful little gem you can pick up at the market!)
2 bay leaves
2 Tbsp fresh dill (1 Tbsp dried will work just fine this time of year)
Olive oil
Pepper and quality salt to taste
Cayenne powder or red pepper flakes to taste
Quality sour cream and extra dill for garnish
Method: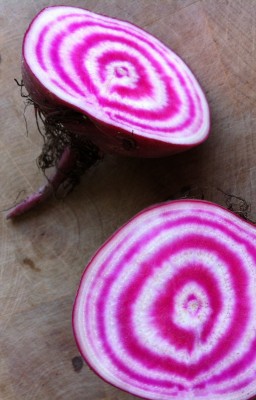 Preheat oven to 375 degrees. Scrub the beets well and chop into 1 inch cubes. Place the chopped beets on a baking tray and drizzle with 1 Tbsp extra virgin olive oil and sprinkle with salt and pepper. Pop them into the oven for about 20 minutes. No need to fuss over their tenderness, the beets can finish cooking in your soup pot.
While the beets are roasting, heat 1 Tbsp of olive oil on medium heat in a large saucepan. Add the diced carrots and onions and sweat until the onions become translucent. Then add your chopped head of cabbage, dill and bay and continue sweating for approximately 5 minutes. Add the stock, vinegar and roasted beets to the pot, turn the heat to medium low and simmer for 30 minutes.
Once the soup has simmered, blend with an immersion blender until the beets look as though they were grated.
Serve with a sprinkle of dill and a dollop of sour cream. This soup is great either hot or cold, especially as the veggies are in season almost all year round.