By: Elizabeth Whalley R.H.N.
Do you smell that?
It's the smell of fresh local tomatoes, coming soon to the Royal City Farmers Market! That's right summer is just around the bend; bringing with it all the delicious harvests of the local farm. Get out your reusable shopping bags folks and experience all that Lower Mainland has to offer at the Summer Market!
I celebrate local summertime flavours in my take on this classic.
Purple Kale Pesto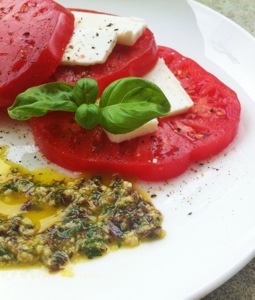 Ingredients:
1/4 cup almonds (blanched or raw)
3 cloves garlic
1/2 cup olive oil
juice of half a lemon
1/2 tsp salt
4-5 kale leaves, stems removed
3 sprigs basil, stems removed
pepper to taste
1″ square of Parmesan cheese (optional)
Method:
Soak almonds for four or more hours; this makes easy work for your food processor. I like to use almonds in this recipe but pine nuts also work well, no need to soak though.
Combine almonds, garlic, salt, olive oil, lemon juice and salt in a food processor (if you're using Parmesan add it in now and omit salt). Pulse until a finely minced consistency is reached, add more oil if needed.
Add in kale and basil, continue to pulse until desired consistency is reached (I like my pesto coarse with lots of big basil leaf chunks). Season to taste.
This pesto makes a lovely salad dressing with the addition of a little more oil and lemon juice. Or it is the perfect complement to any whole grain (and gluten free) pasta, hot or cold.
Personally, nothing says 'summer's on its way' quite like a little pesto over a goat cheese and heirloom tomato salad.