We could all do with a little more sunshine in our lives, right? Next up from the Mason Jar Meal Prep workshop with Chef Jen Hiltz is the Whole Food Sunshine Bowl. Our Market Manager tried and tested this salad-in-a-jar at home with her family and was told it was "unreal"!
Whole Food Sunshine Bowl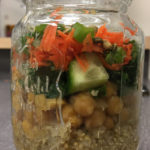 To create this recipe, simply add the ingredients in the order listed below to a mason jar.
Salad Dressing
1/4 cup Dijon mustard
1/4 cup oil ((olive, flax, or grapeseed))
1 1/2 tbsp liquid sweetner ((honey, agave, or maple syrup))
1 1/2 tbsp apple cider vinegar
1 tbsp soy sauce ((tamari, braggs, shoyu))
1 1/2 tbsp water
2 pinches sea salt
Salad
grains (( I like brown basmati rice or quinoa. Cook in veggie broth, and a little extra oil for flavour/texture.))
beans ((I like chickpeas. Use canned or cook from dry with a bay leaf.))
greens ((sea salt massaged kale))
grated carrots or beets
chopped cucumber
chopped avocado
seeds ((pumpkin or sunflower))
green onions