This post is by Kelly Kiss, RHN, one of RCFM's super amazing volunteers. Stay tuned for more by Kelly as she shares her nutritional knowledge and love of cooking with us all.
I love kale –its rich green colour and beautiful texture. This summer it is growing in my backyard garden like a weed, probably from the cool weather we have been having, but when I saw the large freshly picked bunches at Glen Valley Organics last Thursday, I could not pass up an opportunity to try a new variety!
I like to chop up fresh kale and add it to my soups and bean dishes during the last five minutes or so of simmering. This way it is gently steamed –keeping it tender and retaining its bright colour and maximum nutritional value.
Kale is part of the cabbage family (Brassica vegetables) and has been around for thousands of years. It has a strong upright growing stem and is naturally rich in minerals such as calcium and magnesium. It's the perfect alkaline-forming vegetable for building strong bones. As my son does not like to drink milk, I am always trying to include foods rich in these minerals from other sources. Kale is a healthy alternative but I have to get creative as he does not like eating it raw. I don't blame him actually, as it does have a strong sharp taste when eaten on its own without any other flavours. But when you have fun in the kitchen playing with whole food combinations you would be surprised with what you can come up with!
My seven-year old loves lasagne so this week I decided to enlist his help in the kitchen making a vegetarian version using the kale and some other ingredients (carrots, basil and eggs) we had purchased from the Farmer's Market. Here is the recipe we had fun creating together: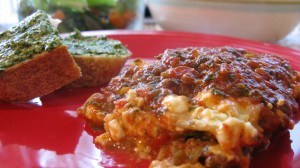 Vegetarian Kale Lasagne
Ingredients:
1 tbsp of coconut oil
2 garlic cloves minced
1 onion finely chopped
2-3 carrots (you can also use some mushrooms in place of some carrot)
1 red pepper
½ large bunch of kale (about 3-4 cups)
2 handfuls fresh basil
1 large can of whole tomatoes (or 2 cans of tomato sauce) both versions work well
1 small can of tomato paste
1 tsp dried oregano
2 eggs beaten
3 cups of cottage cheese
3 cups of shredded mozzarella cheese
¼ cup of fresh chopped parsley
Salt (Celtic sea salt) and pepper to taste
10-12 oz package of lasagne noodles (I use the oven ready brown rice noodles by Rizopia so there is no cooking of the noodles –you can naturally use a different kind)
Gently cook chopped onions in coconut oil for several minutes on low to medium heat. Then add the garlic and stir. In a food processor chop the carrots, pepper and basil and pulse until finely chopped. Add this to the onion mixture and stir together; put kale into food processor and finely chop into very small pieces then add this to the vegetable mixture and combine well. Add the whole tomatoes (or tomato sauce), tomato paste and oregano and stir well; let this simmer for about ½ an hour. In a separate bowl combine 2 beaten eggs, cottage cheese, chopped parsley, salt and pepper and set aside. In another bowl, shred the mozzarella cheese and set aside.
Place ½ of the noodles on the bottom of a 13x9x2" baking dish then add:
½ of the cottage cheese filling
½ of the mozzarella slices
½ of the vegetable sauce
Repeat this one more time finishing with the vegetable sauce on top. Cover with tin foil and bake at 350 degrees for 30 minutes; then uncover for last 15 minutes of baking. Let stand for 10 minutes before cutting into squares.
Another great way to use fresh raw kale is in smoothies, pestos and salads with yummy dressings. A delicious recipe that I found in the book, "More Vegetables Please!" by Elson M. Haas, MD and Patty James, MS., is called "The Best Kale Salad Ever". The dressing marinades and softens the kale making it easier to chew as well as digest; the vitamin C (in the lemon) aids mineral absorption and the enzymes in the raw foods help the digestive process. I even discovered that it is okay overnight in the fridge as it does not get soggy and limp like most leafy green salads with dressing do.
The Best Kale Salad Ever
Ingredients
1 large bunch of kale washed and dried
2 tbsp of fresh lemon
1 whole avocado, peeled and chopped
½ medium red onion chopped
1 medium apple cored and chopped (I prefer it without)
1-2 cloves of minced garlic
2 tsp of fresh grated ginger
2 tbsp of extra-virgin olive oil
2 tsp of Tamari soy sauce
½ cup of chopped cashews (optional)
Tear the kale leaves away from the large stems and chop into small bite-size pieces; place in a large bowl. Add the fresh lemon and avocado and gently mix together. Add the remaining ingredients and mix well. Serve immediately.
There is so much more to say about this wonderful vegetable! For those who are interested, I found a site (written by a Dietician) completely dedicated to kale with information and recipes (including vegan), check out: www.365daysofkale.com and enjoy the many health benefits and tastes of kale!!
~Kelly Kiss, RHN