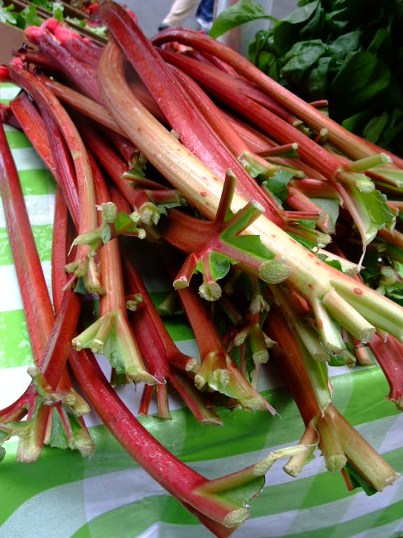 With the RCFM now open and running every Thursday during the summer, there are tons of varieties of fresh fruits and vegetables available at vendors' tables. I ran across strawberries and rhubarb and was given the idea for a strawberry and rhubarb crumble! Not familiar with rhubarb, I wasn't sure what to expect, but the end product was sweet, tart and all around delicious!
I followed Smitten Kitchen's recipe but cut my ingredients in half. Below is the original recipe which yields 4 to 6 servings.
Topping Ingredients:
1 1/3 cup flour
1 teaspoon baking powder
3 tablespoons sugar
3 tablespoons Demerara sugar (or turbinado sugar aka Sugar in the Raw)
1/2 cup unsalted butter, melted
Zest of 1 lemon
Filling Ingredients:
1 1/2 cups rhubarb, chopped into 1-inch pieces
4 cups strawberries, hulled and quartered
1/2 cup sugar
4 tablespoons cornstarch
Juice of 1 lemon
Pinch of salt
Instructions:
1. Heat oven to 375°F.
2. Prepare topping: In a mixing bowl, combine flour,
baking powder, sugars and lemon zest and melted butter.

3. Mix until clumps form. Refrigerate until needed.
4. Prepare filling: Mix rhubarb, strawberries, lemon
juice, sugar, cornstarch and salt in an oven dish.
5. Take topping ingredients and cover filling evenly with topping.
6. Bake for 45 minutes, or until crumble topping is
golden brown and fruit is bubbling beneath.