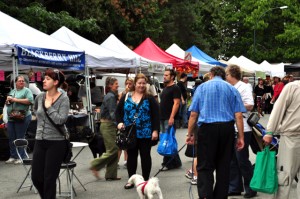 Our 5th Annual Fundraiser is coming up fast on May 31st, but there are other great events happening in this next little while.It's getting closer to summer and the sun has finally come, along with many local food events around the lower mainland. Try filling your lazy days with fun events learning about and eating all kinds of cuisines.
On June 1st, Eat! Vancouver Food and Cooking Festival, the largest food festival in Vancouver, kicks off for three days at BC Place Stadium, with a celebrity stage of food experts such as Annabelle Waugh, Food Director at Canadian Living Magazine, and David Rocco, the host of Food Network's David Rocco's  Dolce Vita. Learn how to cook up a storm from professionals like Ryan Gauthier and Jason Labahn from the Glowball Collection and simply eat your heart out at the many different vendors. Here are the schedules for June 1, June 2 and June 3 and check out their website for more information.
Similar to our Naramata on the River, another food and wine event taking place this month is Sip into Spring with BC VQA Wines on May 25 from 6:30pm to 9pm. Complete with hors d'oeuvres and oyster shooters, samples of fresh BC wines accompany a fine evening out in Vancouver. You will get to taste wines from all five of BC's wine growing regions, the sub-regions of Kelown, Okanagan Falls, Golden Mile, Black Sage/Osoyoos, and what's more, more Naramata. Start your weekend early and take in your fair share of anti-oxidants!
Ever wanted to grow fruit trees? Ever wanted to grow fruit trees and trim them into aesthetically appealing decorations on your front yard? Now you can learn how to at the Espalier: Pruning and Trimming Fruit Trees on June 15, hosted by UBC Botanical Garden. Brendan Fisher, UBC Botanical Garden Horticulturist, teaches how to care and maintain espalier fruit trees. Aside from that, growing your own fruit from your own yard makes eating them that much sweeter. Prune their website for more information on the event!
Even though our summer market runs every Thursday afternoon, don't forget that other farmers markets are up and running for the season. Fresh, local food and unique, handmade arts and crafts make for a fun-filled outing with family, friends and pets. A couple of other markets in the area are the Artisan Farmers Market in Burnaby at Deer Lake Park that runs on Saturdays from 9am to 2pm and the Coquitlam Farmers Market at the Dogwood Pavillion that is on from 9am to 1pm every Sunday. It's a great experience to show young and old alike that buying locally grown food helps support and sustain BC farmers.