Instead of the typical boxed chocolates,socks, or a tie, make your Father's Day present a little more unique this year and add a personal, homemade touch. I snagged this recipe off Allrecipes Lemon Square Bars Recipe but added a bit more lemon to the suggested servings for that extra zest. This recipe only takes about an hour, a nine by 13 inch deep-dish pan, mixing utensils and the following ingredients:
Crust:
1 cup softened butter
1/2 cup white sugar
2 cups flour
Filling:
4 eggs
1 1/2 cups white sugar
1/4 cup flour
3 lemons, juiced
I made half the amount this recipe called for only because I wanted to taste test my creation before presenting it to my dad, so the pictures displayed below are my modified quantities.
Instructions
1. Preheat oven to 350 degrees Fahrenheit.
2. Mix the ingredients for the crust, the butter, white sugar and flour together in a mixing bowl.
3. Press the mix into your deep-dish pan.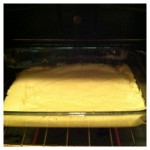 4. Bake for 15 to 20 minutes or until firm and golden.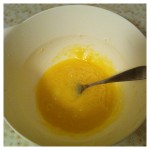 5. Mix the ingredients for the filling, the eggs,
white sugar and lemon juice together in a mixing bowl.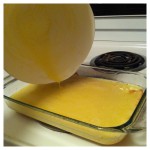 6. Pour the filling over the baked crust.
7. Bake for 20 minutes.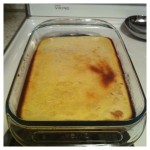 8. Allow to cool before cutting into squares.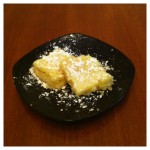 9. Add confectioner's sugar for a finished touch.
From my first attempt, I ate about half the pan as soon as the squares came out of the oven. They had a nice, crunchy crust that had the right amount of sugar along with the confectioner's sugar on top, and the added lemon juice (the original recipe asked for two lemons) in the filling countered the sweetness with more zing. I was surprised by how moist the lemon squares stayed after baking. This was by far one of the easier desserts to make without breaking the bank or mussing up the kitchen and is a definite must-bake for Father's Day.