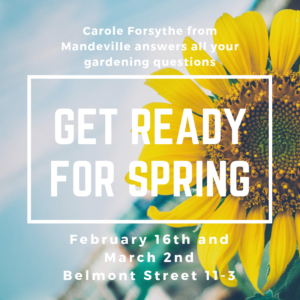 Do you have the winter blues? Warm up with some garden planning!
Carol Forsythe from GardenWorks at Mandeville joins us at the market on February 16th and March 2nd from 11-3 at our community booth. Ask Carol all your questions to get your garden and yard ready for spring! She can help with everything from balcony gardens to community gardens, lawns to produce. Come say hi with your whole family! Kids can join us to do some gardening themselves, and bring home a potted plant for free!
See you at the market.