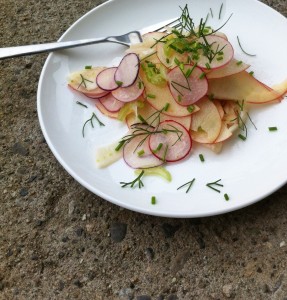 By Elizabeth Whalley R.H.N.
I'll bet as part of your spring cleaning regimen you've dusted away all those cobwebs from even the hard-to-reach corners, wiped the winter grime from windowsills, and even thrown out that questionable jar of who-knows-what from the back corner of your refrigerator. But have you given any thought to what may have built up in your body over the past year?
Cleansing and detoxifying are important aspects of maintaining a healthy body. These days we live in a world where our bodies are faced with harsh toxins, chemicals and radiation at every turn. If not in our daily beauty routine then in our cereal bowl or along our morning commute. Our bodies are strong and very resilient, equipped to do lots of detoxing in our ever changing world, but giving your body a break every so often means it can get a leg-up on the competition. Shopping at the market is a great place to start! Local organic fruits and veggies mean no pesticides and less carbon emissions to get them to your plate. And naturally raised, organic meats mean your liver is not bogged down with hormones and antibiotics unlike supermarket products.
This simple springtime salad features lots of foods that support a little spring cleaning in your body;
Fennel and Radish Slaw
Ingredients: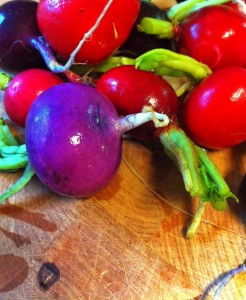 1 bunch radishes
1 medium apple
½ medium fennel root
3 stalks celery
zest and juice of half a lemon
zest and juice of half an orange
½ cup oil (sunflower or grapeseed works best)
chives and fennel leaf to garnish
sea or rock salt to taste
Method:
A mandolin makes quick work of all the veggies in this recipe, however, slicing them all into matchsticks will work in a pinch. Combine the vegetables, apple and citrus zest in a medium-sized bowl. In a small bowl, combine the lemon and orange juice and slowly and whisk in the oil to emulsify. Drizzle over the salad, season with salt and toss.  Garnish with chopped chive and fennel leaf.