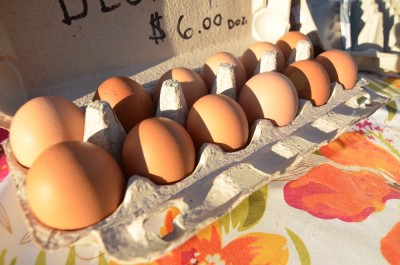 Love is in the air as we approach Valentine's Day in New Westminster. Will you be getting something special for your loved ones? There's plenty to be had at RCFM this Saturday with produce from the farmers, sweet treats from our bakers and gorgeous hand made products from our artisan crafters.
Here is a little taste of the unique products we offer:
Your Wildest Foods – Wild Nettle and Wild Northwest Blend on special for $6
Lilise Applesauce – Sweet/Spicy applesauce is made with organic apples, fresh organic ginger, combined with delicate cinnamon and organic peppercorns $6 or $10 a jar
Rockweld Farms – Super Bowl wing special Buy 2 packages – Get 1 pkg FREE! (of equal or lesser value)
The Roland Kaulfuss Music Stage will be featuring Steve DeCoste. Steve plays a range of Acadian music, country and contemporary light rock, Canadiana /Americana.
Make sure to stop by and say hello to our community guests The Music Box.
Driving to the market? FREE PARKING is available at Westminster Centre, directly across the street from Belmont Street. If you are taking transit the #106 bus stops at 5th avenue and 6th street. Coming from the Quay? Take River Market's brand new FREE DUC shuttle from the Quay straight to our location.
A list of our vendors for February 6th can be found below. Please check out Facebook Page or Twitter for any last minute cancellations or updates.
Produce
Bose & Sons Family Farm – Potatoes
Greendale Herb & Vine – Greens, frozen tomatoes (beefsteak, heirloom) Honey, Nuts (hazelnuts), Muesli, Infused Vinegars, Goat's and Cow's Cheese, Popcorn Kernels, Herbal Teas, Dried Lavender.
Ossome Acres – Winter squash, Kale, kalettes, Brussel sprouts, Micro greens, Spinach, Herbs, Hand milled soap, Walnuts
Snowy Mountain Acres – Apples, pears, dried fruits
Nutrigreens – microgreens packed full of nutrients
Your Wildest Foods – foraged mushrooms, dried teas and fresh mushrooms
Meat and Fish
Rockweld Farm — BC frozen chicken and chicken products including eggs, dog and cat food
Local Beef & Eggs
Wild West Coast Seafoods –  flash frozen fillets of Rock Sole, Petrale Sole, Rockfish, Ling Cod, Pacific Cod, Sablefish, Chinook/Spring Salmon, Coho Salmon, Sidestripe Shrimp, Halibut, Albacore Tuna Loin.
Wheelhouse Seafoods –  Seafood pasta, crab cakes and frozen fish
Eat and Drink On Site 
Cheese Crust – delicious gourmet grilled cheese sandwiches
Old Country Perogi – hot perogies perfect for a winters day
Eastern European Slavic Rolls – hot ready to eat pastry with delicious fillings
Gary's Kettlecorn – kettlecorn
Bread and Baking
A Bread Affair — artisan breads
Blackberry Hill — squares, cinnamon buns, strudel, and old-fashioned yummies like crisp rice squares
Delish Gluten Free — gluten-free bread, scones, muffins, brownies and cookies
Sweet Thea Cake Company — tarts, pies, cookies and cakes
Feeding Change – raw foods cakes and squares
Sable Shortbread – hand made shortbread that melts in your mouth
Half Pint Pies

– frozen hand pies to bake at home
Delectable Treats and Prepared Yummies
Anne's Gallery – Jams jellies marmalades, chutney
BobAli – tasty dips and hummus spreads
Old Country Perogi – frozen perogies with gluten free & vegan options
The Raw Guy – kale chips, macaroons, crackers and raw treats
Lilise Applesauce – organic home made applesauce from local fruit
Muy Rico – salsas, tortilla chips, mole sauces and mayonnaise
Real Meals – prepared frozen foods for healthy meals at home
The Salt Dispensary – salted caramels, smoked salts and pepper mixes
Chanthorn Orchids & Thai Sauces – yummy thai sauces
Rain City Juicery – fresh cold pressed juices and hot apple cider
Bath & Body Care
Mediterra Soap – soaps and body lotions
Jewelry 
Liquor
Dragon Mist Distillery – locally made vodka and gin
Local Artisans and Crafters
Anne's Gallery —  traditional Aran and designer knitwear
Quality Oak – hand crafted quality cutting boards
New World Felting – new age hand made new fibre designs