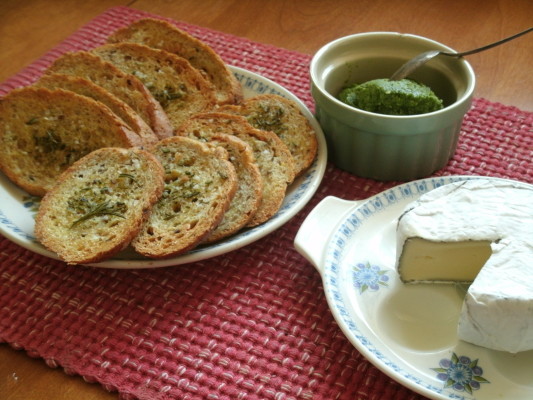 By Dan McCash
Arugula Pesto
You don't often need to read a recipe's specific ingredient amounts like you're translating Morse Code ( "2 Tbsps with 1 cup and ½ quart" does not equal "S.O.S.")
Pesto is an exceptional recipe to flex your own personal taste buds by "approximating" the amount of each ingredient that's combined and today we're making it with arugula!
Ingredients
2 or more big bunches of fresh Arugula, stem to leaf
1 or two Tbsp of citrus juice
as MUCH raw garlic as you please (proportionally, probably about ¾ cup)
A cup of any nuts, toasted (toasted almonds are dynamite, giving this pungent sauce a very nutty undertone)
1/3 cup of grated or powdered parmesan cheese (NO mac & cheese powder, yech!)
Dash of salt
Olive oil – however much you can work with adding but appox. 1 cup
Directions
Pack arugula into your food processor (or a friend's processor if you haven't got one)
-blitz at the leaves to give an initial chop
-drizzle some olive oil into chopping leaves to help speed it up
Add all your garlic, nuts, and keep pouring in some oil as you go. Drop in some citrus juice and taste. Season to your liking. Keep blending and pour in parmesan cheese.
Once the recipe's saucy and to your taste, pour in a jar, drizzle a thin layer of oil, seal and refrigerate
Crostinis
Cheese, jam, olives, tapenade, sauces: including basil & tomatoes, there's a myriad of pantry items that will sit atop crostini crackers to make your dinner party into a tapas lounge for the night!
Ingredients
1 bagette
1/4 cup olive oil
some good ol' S&P
Directions
With the baguette, cut 1/2 cm slices until you can cut no more. Lay slices on parchment-covered cookie sheet. Lightly brush them with olive oil and sprinkle your salt, pepper, and maybe there's some herbs that you may fancy (ie- a pinch of rosemary is always a hit)
Lay another parchment over baguette tray and seal with a 2nd cookie sheet. Toast in the oven, preheated for 400 F for approx. 7 – 10 minutes.  Be sure to poke in to see how things are toasting–it's a very short amount of time in the oven before Golden Brown skips to "Burnt Toast"
HINT: if your bread knife is dull, baguettes are much easier to slice when they've been in the freezer for an hour.