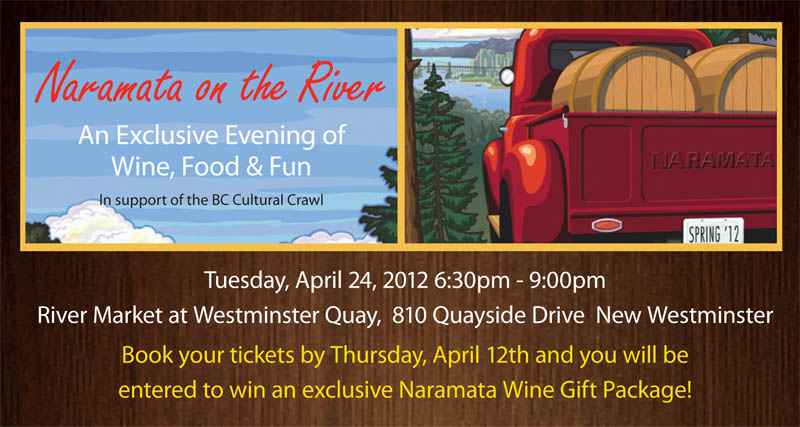 RCFM is excited to sponsor Naramata on the River, a night of fine wine dining, as part of the 11th Annual British Columbia Cultural Crawl at the River Market in New Westminster.
Naramata Bench Wineries can be found near Penticton in the Southern Okanagan. It's not enough that they get less rain and hotter weather than us New Westminsterians, but Naramata Bench also gets to sit on sand cliffs with views of mountains, vineyards and Okanagan Lake with a fresh glass of sun-soaked wine.
The one big perk with Naramata on the River is that you don't have to drive the five hours to get to the wine: the wine is coming to you. On April 24, 2012, the River Market at the New Westminster Quay will be hosting Naramata Bench Wineries from 6:30pm to 9:00pm. Plan a Tuesday night in the town and walk, bike or skytrain to the River Market to taste test new wines.
Rest assured there will be no shortages of red or white wine choices between the 21 members associated with Naramata Bench, including Laughing Stock Vineyards, the 2011 Canadian Wine Awards gold medal winner for Syrah 2009. A full list of the participating wineries is located at the bottom of this post. The Spring wine releases will be paired with dishes from Vancouver restaurants, including the Hamilton Street Grill, Hagensborg Chocolates and Naramata's personal Hillside Bistro to complete your wine tasting experience.
As if dining by the River listening to live music by the Sarah Kennedy Jazz Trio and New Westminster singer and songwriter Gillian Hobbs isn't enough, you will get the chance to meet and greet Naramata winemakers and bid on silent auctions for Naramata wines, Naramata Wine Country Getaways, Behind the Scenes Wine Experiences and Canadian artworks.
This event promises to be an evening of fine wining, dining and spending quality time with family and friends.
Participating wineries:
Black Widow Winery
D'Angelo Estate Winery
Elephant Island Orchard Wines
Hillside Estate Winery & Bistro
Kettle Valley Winery
La Frenz Winery
Lake Breeze Vineyards
Laughing Stock Vineyards
Misconduct Wine Co.
Monster Vineyards
Moraine Estate Winery
Nichol Vineyard & Estate Winery
Perseus Winery
Poplar Grove Winery
Red Rooster Winery
Serendipity Winery
Therapy Vineyards
Township 7 Vineyards & Winery
Upper Bench Estate Winery
Van Westen Vineyards
3 Mile Estate Winery
Click here to order tickets online.
Visit www.bcculturalcrawl.com for tickets or more information on Naramata on the River.
Visit www.naramatabench.com to learn more about Naramata Bench Wineries.