I make this udon noodle dish every chance I get. What I love about this dish is that it's fast, fuss-free and inexpensive and all the while being healthy. It usually takes me 15-20 minutes from start to finish, depending on how much I want to make (I always make extra for leftovers) and in total, my grocery bill came to less than $10 (I already had the bottles of sauce at home). You can get really creative and have fun with this meal by adding eggs, tofu or shrimp and all your favourite veggies. It's like having your own U-Grill at home!
Ingredients
1 1/2 lb ground beef
4 packets of ready-made udon noodles
3 carrots
2 broccoli crowns
1 can of sliced water chestnuts
1/2 onion, chopped
4-5 tablespoons oyster sauce
3 tablespoons soy sauce
1/2 cup water
1 tablespoon vegetable oil
Makes 4-5 servings
Instructions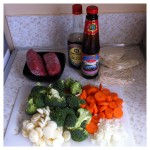 1. Your ingredients, washed, chopped and ready to go.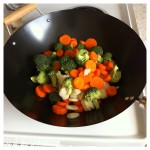 2. In a large wok, turn on high heat and add vegetable oil.
3. Add carrots, broccoli and water chestnuts.
4. Add in water and let simmer.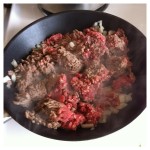 5. In a medium frying pan, cook the onion and beef until it is brown.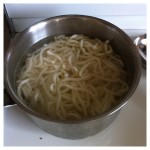 6. In a medium pot, bring water to a boil.
7. Add udon noodles and let simmer for 5 minutes.
8. Drain.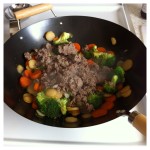 5. Add onion and beef to the wok and stir fry. Add in soy sauce and oyster sauce and mix well.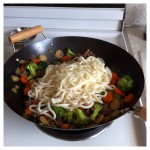 6. Add udon noodles and mix well.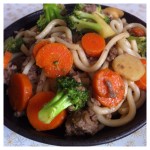 7.  Serve hot.
You can add more or less sauce to taste (I usually add more oyster sauce to mine). The more you make this dish, the more you will be comfortable with the amounts you use. Have fun with this one!