The next market will take place on December 10, 2022 at Tipperary Park .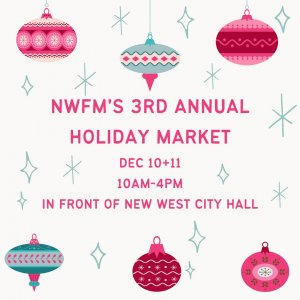 VENDOR LIST
Alcohol
Festina Lente Estate Winery
Humblebee Meadery
Luppolo Brewing
Mainland Whisky
Northyards Cider Co.
Odd Society Spirits
Raincity Distillery
Siren's Call Wines
Snowgoose Brewery
Storehouse Winery
Studio Brewing
The Woods Spirit Co.
Bakeries
Amelies Cakehause
BAK'd Cookies
Bannock Queen
Evie + Charlie
Homemade By Harris
Kay's Cookies
Marie's Guilt Free
The British Baker
Trove Desserts
Twins Donuts
Confections
Drunken Chocolatier
EMKAO
Maples Sugar Shack
Nakedough
Schoki Chocolate
Solasta Chocolate
Sunshine Mallow
Produce/Farmers
Mandair Farms
The Small Farmers Collective
Whistler Harvest
Meat and Seafood
Chef Cuterie
Island Jerky
Outwest Ranches
Vancouver Smoked Foods
Wild West Coast Seafood
Vegan
Game Changer Foods
Living Tree Foods
Plantbase
Jams, Pickles, Condiments & Preserves
BCbee Supply
BobAli Foods
Mandi's Mickles
Midori Foods
With/On Kimchi and Sauces
Entrees
Amazing Foods BC
Empanada Gal
Mamma Musey Pierogi
Morgan's Harbour
Mountain Meal Prep
Pastaggio
Tamaly Shop
What'soup
Snacks
Davemade Granola
Gary's Kettle Corn
Meat Chew
Waffled
Beverages
Gingeraki
Mukasi Coffee Co.
Nectaro
Solbru
Top Hat Kombucha
Candles
Candles by Jacob
Coconut Candle Company
DinArt Candles
Ollie & Co.
Soap, Spa & Beauty
Alyssa Dawn Natural Soapery
Simon's Soapbox
Jewelry
Neet Arts Co.
Bonorlea
Textiles
Designs By Jules
Holly Hopper Made
Lil Olive
More Than Pyjamas
The Metrognome
Homewares
A.H.A./N.C.M. Designs
BC Wild Wreaths
Heliotrope Designs
MeNom
Nima Stoneware
Rescued Glass YVR
Serenity Living
Pet Supplies
Woof & Stuff
Food Trucks
Burgerholic
Camion Cafe
Japadog
Reel Mac and Cheese
Rolled West Coast
Tokyo Katsu-Sand
Tornado Potato
VegOut (Sunday Only)
Special Guests
Mechanics of Music
Music Box
Musicians
Barry Wilson
Jan D
JD Miner
John Bowman
Larry's Brother
Sue Breton
Getting Here