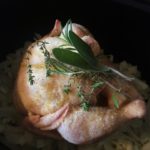 Celebrate Earth Day this month by making your kitchen its most sustainable! Animal products are one of the areas you can easily make a big impact. I'll admit it, chicken breast is pretty tasty, but by buying a whole chicken not only are you able to take advantage of every part of the bird, you can also be sure you're making the most economical choice for your grocery budget.
This recipe has quickly become a new favourite of mine. With a little planning (and not a lot of prep) a roast chicken dinner can be achieved even on a weeknight!
1 large cooking onion (roughly sliced)
1 whole chicken (giblets removed)
6 leaves fresh sage
2 sprigs rosemary (stems removed)
2 sprigs fresh thyme (stems removed)
1 clove garlic (minced)
1 tsp black pepper
1 tsp salt
Cover the bottom of your crock pot with the chopped onion.

Rub chicken with garlic, salt and pepper and place on top of onions. Place herbs on top of the chicken and cook on high for 4-6 hours until juices run clear.

Place chicken in a roasting pan and let the skin brown under you broiler for 5-10 minutes. Check on the bird frequently, the skin goes from golden to black very quickly.

While the the chicken is browning pour the onion and juices from the crockpot into a sauce pan and set on medium.

Use an immersion blender to blend onions until smooth. Season to taste with salt and pepper. Voila thick (gluten-free) gravy in a snap!
Serve with lots of roasted veggies or a simple green salad. Stretch this bird a little further and make a flavourful stock from the leftover bones, get my favourite recipe here.