Meet Noella and Aaron! They are the farmers behind Ossome Acres located in the Fraser Valley, between Abbotsford and Agassiz.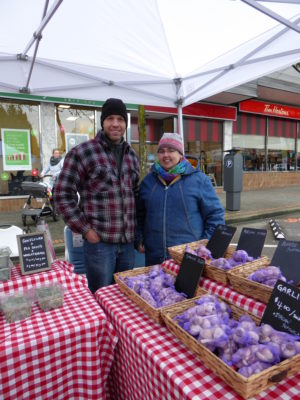 Q: How long have you been farming?
A: Since 2010. It's a family farm and we decided to try to make it work. Aaron was previously a welder and together we would make bread to sell at farmers markets.
Q: What's your favourite to grow?
Noella: Nothing is my favourite to grow, but kale is my favourite to eat. I put it in a smoothie every morning.
Aaron: I like to grow kale. It's low maintenance, it's healthy, and you plant it once and it keeps coming.
Q: Do you have a farm mascot?
A: Llamas, cows, dogs, cats, chickens, and roosters! We have lots of animals on the farm.
Q: How can we learn more about your farm and keep in touch?
A: We have a newsletter and Facebook page and you can check us out on Pinterest for some awesome recipe ideas.
Check out their website at ossomeacres.com and say hi to Aaron and Noella at the next market!