By Elizabeth Whalley,
You know what they say, breakfast is the most important meal of the day. Have you ever bothered to ask, why?
What's the most greedy of all of your organs? Your brain! That's right, starting your day off with a good breakfast is not only important to kick start good digestion and metabolism for the day, but it's also key in keeping your mind sharp!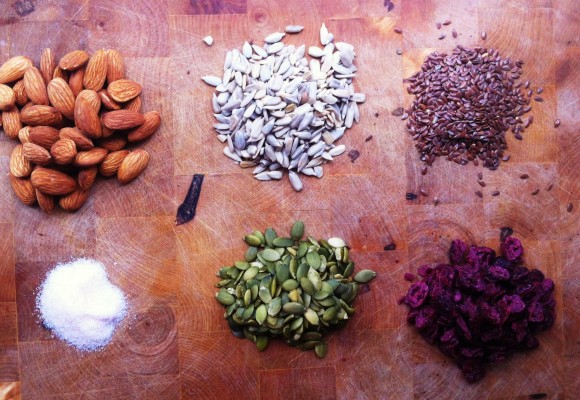 A nutritionally balanced breakfast is one that will supply you with lots of nutrients, but will also keep you full and provide you with energy for the rest of the morning. How exactly do you manage to pack all that into your cereal bowl? Simple; lots of nutrient dense food with an extra hit of protein, healthy fat and fibre, things like; nuts, seeds and WHOLE grains. Sorry to be the bearer of bad news but those "whole" grain Cheerios, don't make the cut!
Lucky for you there are some great ingredients hidden throughout the market to add to your morning bowl of brain power! I picked up some of the best dried cranberries I have ever tasted from the BrainFood Snack Co. There is a great selection of local nuts at various vendors, I chose almonds from Greendale Herb and Vine.
Great Granola
The best part about this recipe is it is easy to incorporate any nut, seed or fruit you have in your cupboards. Get creative and try any combination!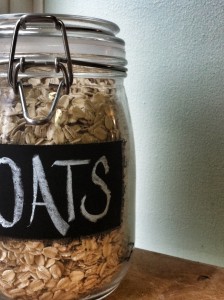 3 cups old fashioned rolled oats (not instant)
3/4 cup sliced almonds
1/2 cup flax seeds
1/2 cup pumpkin seeds
1/2 cup sunflower seeds
1 tsp ground cinnamon
1/2 tsp rock or sea salt
1/3 cup melted coconut oil or butter
1/2 maple syrup or honey
Method:
Preheat oven to 325 degrees Fahrenheit. Melt butter or coconut oil, I just put the oil in my glass measuring cup and then leave it in the preheating oven for a few minutes.
In a large bowl combine all dry ingredients, stir until combined. Gently mix in the honey or maple syrup and oil or butter. Spread the mixture out evenly on a baking sheet. If needed, line the baking sheet with parchment paper to avoid sticking. Bake for 25-35 minutes, stirring the mixture a few times throughout so it browns evenly.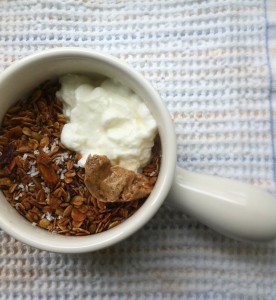 The granola has finished baking once it is crispy and golden brown. Let the granola cool on the baking sheet before transferring it to an airtight container. It will remain fresh for 2-3 weeks in the cupboard.
Now for the best part; yummy toppings! For this batch I used market cranberries (3/4 cup) and organic unsweetened coconut (1/2 cup).  I mixed the toppings right into my storage jar for the perfect grab and go breakfast.
Some of my other go-to toppings are apples and nut butters (both of which are also available at the market). Or you could transform this breakfast into a sweet treat with blueberry compote and a little whole milk yogurt. I've seen lots of frozen blueberries at the market lately and they are easily made into delicious sauce for granola or pancakes;
Put a cup of frozen berries into a small pot on medium heat. Let them simmer for about 20 minutes, stirring often.  Add a tbsp of maple syrup and voila; homemade blueberry compote!