You may have wondered where the Royal City Farmers Market, and the signature eggplant and artichoke logo you see along the streets of New West, have gone. We are still here! We've had a bit of a makeover and think we are looking good (if we say so ourselves)!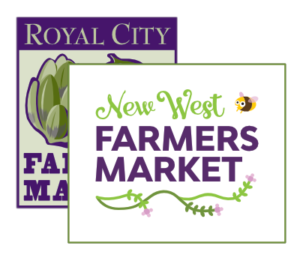 After lots of conversations about the organization's future and health as we approached our 10th year (summer of 2018 will be our 10th summer season), we looked over our strategic plan again. Our shoppers and our vendors are some of our most important partners in bringing this market to the community each week, and we realized that few outside of New Westminster know what the "Royal City" reference is.
In order to expand our reach to new shoppers and vendors, something in our strategic plan, we needed to make sure it was clear that we are the farmers market in New West. And so, after checking in with our founders, and after a special resolution at our AGM in March passed unanimously, we began the process to officially be named what everyone referred to us as anyway-the New West Farmers Market Society.
This summer, look out for new signage along the streets of New West, as well as new merchandise featuring our veggies!
Interested in having a say about the future of the market? Find out more about membership here!