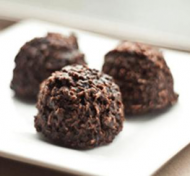 Written by RCFM Contributor Katie Bartel
The moment her teeth sinks into the soft fudge of the dark chocolate macaroon in her hand, nothing else in the world matters.
"It's ecstasy," says Mia Takhar. "It's fudgy. It's dark chocolate. It's so delicious, so addictive – you can't just have one."
Good thing, it's healthy.
Health is the premise behind Feeding Change, the Community Contribution Company Takhar joined last summer as pastry chef and farmers' market vendor.
The Vancouver-based company produces 100 per cent organic, pure, nutrient-rich, dense food that's been sourced from their origins – nothing processed. Its goal is to reconnect people with real food.
With the prevalence of obesity in North America, and the alarming growth around such diseases as type-2 diabetes, heart disease, cancers, and food allergies, a change in the way people think about their food is in order, says Takhar.
Feeding Change is a Community Contribution Company, a business model that links entrepreneurs with social change. That means, under provincial guidelines, the company has committed to giving 60 per cent of its profits to social causes.
Being food-based, it's natural Feeding Change sought to feed children whose families have financial challenges in providing nutritious meals. Every school day, Feeding Change delivers a hearty source of breakfast goods to Lord Kelvin elementary in New Westminster – including organic fruit smoothies, a fruit salad bowl, and those aforementioned delectable macaroons.
From January to June last year, it served 7,620 children. Break that down, 8,001 macaroons; 8,763 smoothies; and 9,144 fruit salads were consumed.
"We are giving them a source of energy, vitamins, minerals, and antioxidants so their brains can function properly," says Takhar, noting their macaroons have the equivalent of antioxidants found in two cups of blueberries. "The more [bad] food we put in our bodies, the more it affects our brains, organs, blood levels, the way we think."
By starting with children, and by having a strong presence at farmers' markets, Feeding Change intends to change the world one organic bite at a time.
"We're here to lead by example," says Takhar. "It comes down to people, education and priorities. It's pretty amazing what you can do with whole food."
Feeding Change will be at the Feb. 6 Royal City Farmers Market and, in addition to those macaroons, will be featuring such items as chickpea miso, coconut meat, spiced pumpkin seeds, chocolate ganache, coconut cream pie, and cheesecake by the slice.
For more information, visit the website www.feedingchange.me