It's funny what a simple question will do for a conversation.
At the last market I asked Jeff at Fresh Quality Produce why yellow wax beans were called wax. I mean, if green beans are called green, why not call yellow beans, yellow? Honestly, I can't remember his response, but I do remember him leading the conversation over to strawberries and raspberries and asking why each were called that. We know why blueberries and blackberries have their names, he said, but what about strawberries and raspberries?
Out came both of our phones. Seriously, how did we survive before Google?
According to Almanac.com, there are two explanations for strawberries: some apparently thought strawberries looked like straw (what???) while others believe the name comes from the Old English word strew because when the plant grows it looks like it's growing scattered along the soil.
Raspberries were a bit more complicated. Their scientific name, Rubus idaeus, means "bramble bush of Ida" signifying the Greek island of Crete where they are believed to have originated. Funnily, according to Greek mythology, raspberries were white until Zeus' nursemaid Ida (see latin name above) pricked her finger on a thorn and stained them red, thus making them a red berry.
If I were at a grocery store, would I be asking these questions? Would I know the first name of the farmer I was buying from? Would I know the farmer, period? Would the grocer spend a good five minutes laughing along with me trying to find the answers to my oddball questions? I am going to go out on a limb here, not a very far one, and say no.
I do not have a relationship with the big box grocers. But I do have a relationship with Jeff at Fresh Quality Produce, with Gemma at Zaklan Heritage Farm, Aaron and Noella at Ossome Acres, Ron at Wild Westcoast Seafood, Doug at Greendale Herb and Vine, Jasbir at Mandair Farms, Param at Harvest Direct Farms, and so many others that I have met and chatted with along the way.
It makes a difference.
Market Loot
Harvest Direct Farms
1 basket apples $5
1 basket apricots $5
Ossome Acres
3 small pattypan squash (also called scallopini) $1.90
4 pickling cucumbers $4.90 ($4/lb)
Ripple Creek Organic Farm
1 bunch broccolini $2.40 ($4/lb)
Zaklan Heritage Farm
1 head specialty bred salanova purple spiky lettuce $2.50
1 bunch pizzo mustard greens $3
1 bunch ruby streaks mustard greens $3
2 heirloom tomatoes $1.50 ($4/lb)
1 bunch rainbow carrots $3.50
1 Spanish white onion $1.25
Fresh Quality Produce
1 pint raspberries $4
1 bag mix of yellow and green beans $3
Total spent: $40.95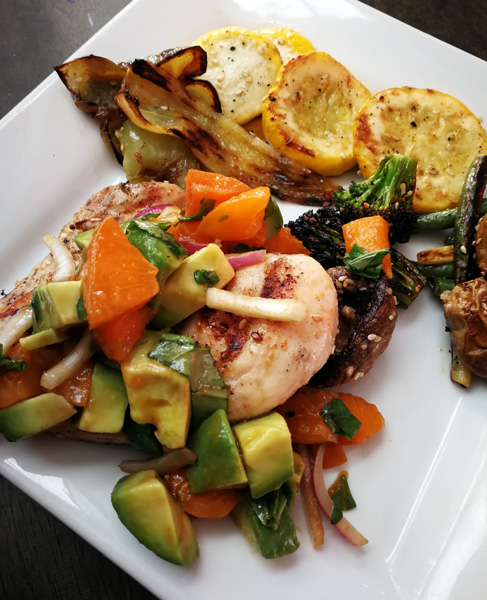 With the contents of this week's market purchases, I felt like I should be the envy of every shopper NOT going to the farmers' market.
My salads, oh my goodness, so fresh, so tasty, didn't need dressing, none. I had experienced this very same thing last year, where I was blown away by all the flavourings in just the greens alone. All winter I had been waiting for this again. And this week, it came.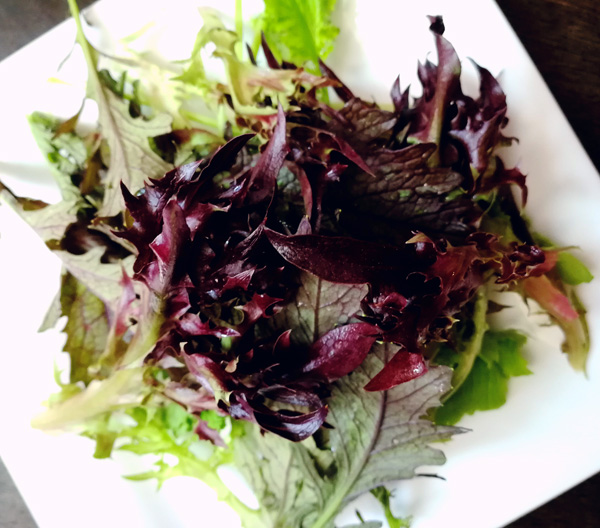 The purple, spiky lettuce is a specialty breed salanova, the seeds of which came from Bellingham, that produces beautifully spiked individual leaves even after the core's been chopped. I remember falling in love with this lettuce last year, but had only seen it once at the market. Gemma from Zaklan Heritage Farm informed me it's a regular feature in their salad mix bags.
Good to know 🙂
The greens are great on their own, but with the market so full of freshness, why not add a few berries, or sliced apricots, or slices of the season's first apples. You could even grill up a few slices of pattypan squash to give it a nutty flare, or Spanish white onion for a savoury sweetness. There are so many options for your salads right now. You can spice them up. You can sweeten them up. You can make a rainbow of them. Even the most staunchest, anti-salad eater would have a hard time saying no to these beauties.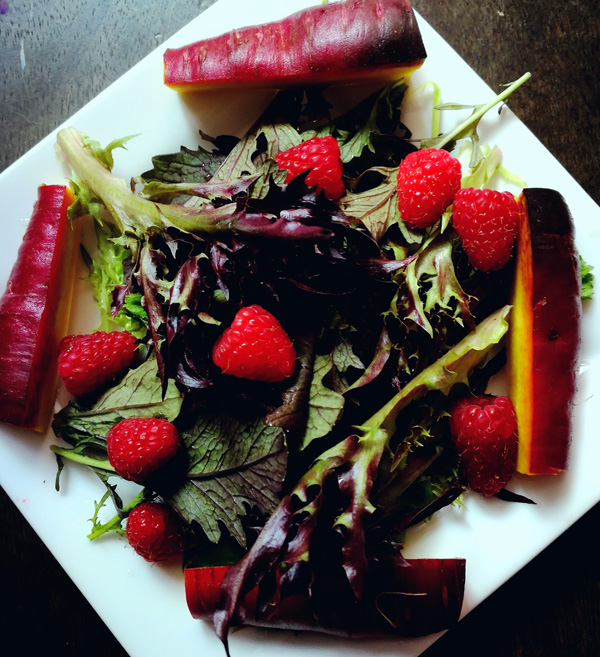 What kind of salads have you been making?
---
Originally published on local blog Tenth to the Fraser, The Farmers Market Challenge, written by Katie Bartel (and the odd guest star) seeks to challenge the notice that you can't get hardly anything for $40 at the farmers market. Each market, Katie explores what's the best deal, and discovers food she's never heard of.