by Katie Bartel
We made it a meal when it should have been an appetizer.
Last week's market presented us with a bit of a conundrum. There were plenty of salad greens to be had, and normally that would be top of our shopping list, but because I still had greens leftover from the previous week, and had also acquired salad greens from two farms that I intern at, my fridge imposed a strict greens spending freeze.
My husband got to the market first, and right away he spotted market-newcomer Hibiscus Foods and their Jamaican patties. We had a busy week planned and he remarked it would be an easy meal. We could pair it with a healthy green salad, he suggested.
I was on the fence. I looked at the patties and right away I was jet set back to my Grade 9 year when all I ate were pizza pockets, so many that I vowed upon graduation of that year never to consume another such product. But Hibiscus Foods was a new vendor, and I was intrigued.
Upon sampling, I soon learned Jamaican patties are not the commercialized over-cheesed pizza pockets; they are savoury, meat-filled pastries with loads of heat. Hibiscus Foods had two varieties to sample: curry chicken and beef. I tried the chicken first; my mouth was on fire. I  tried the beef; it didn't seem to have as much heat. My husband did the opposite and had the opposite effect.
"Jamaicans don't know how to cook without spice," laughed Brian Chin, who took over the family business three years ago and perfected his patties with scotch bonnet peppers to give them that authentic Jamaican flare.
I got a box of four and cooked all four for a dinner for two. It was TOO much. Way too much. We got through one each and packed the rest up to be a conversation piece for my husband's coworkers.
They became an appetizer after all.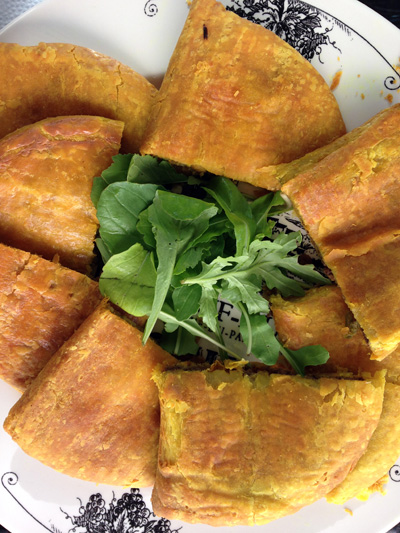 Market Loot
4-pack Jamaican patties $15
1 bunch green garlic $3
4 kohlrabis $3
1 bunch Swiss chard $2.50**
Fresh Quality Produce
Large container (2 lb) strawberries $10
2 zucchinis $1.50
1 bag potatoes ($1.99 lb) $1.60*
7 stalks rhubarb (1.99 lb) $3.10*
Total spent: $40
* Note the asterisks above: Each represent savings. Fresh Quality Produce was one of my last stops of the shop, and it was within one hour of closing. The vendor knew I had a hard budget to work with. The strawberries and zucchini were a priority at a fixed price. The potatoes and rhubarb were a luxury, and were priced by pound. My first attempt at the potatoes came under budget. I filled a little more and was 10 cents over budget. Rather than send me back to empty the bag, they gave it to me for $1.50. Same with the rhubarb. I initially went up with four stalks and was way under my $2.50 allowable expenditure. I was advised to grab three or four more; I came back with three and was 60 cents over budget. No questions, they gave them to me at the price I needed.
I love our market vendors!!!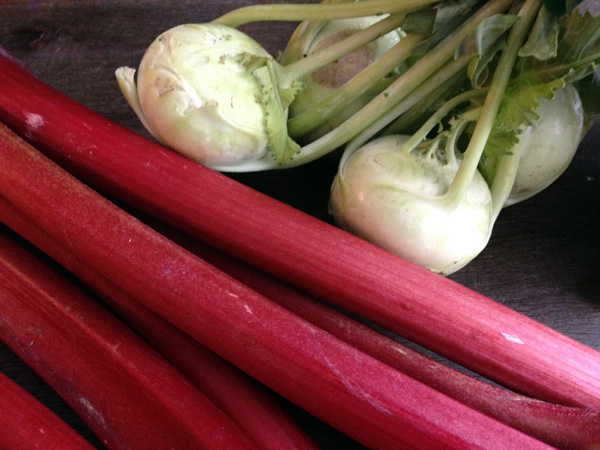 ** Savings of the day number 2 came from Zaklan Heritage Farm. Usually the farm sells Swiss chard for $3 a bunch, but last week it was the deal of the week at $2.50. That brings us to a total savings of $1.20 – score!
And what did I do with all that chard? Well, they were the feature of our market-fresh, market meal of the week: Shrimp and Chard Quinoa. So light. So tasty. So refreshingly summery.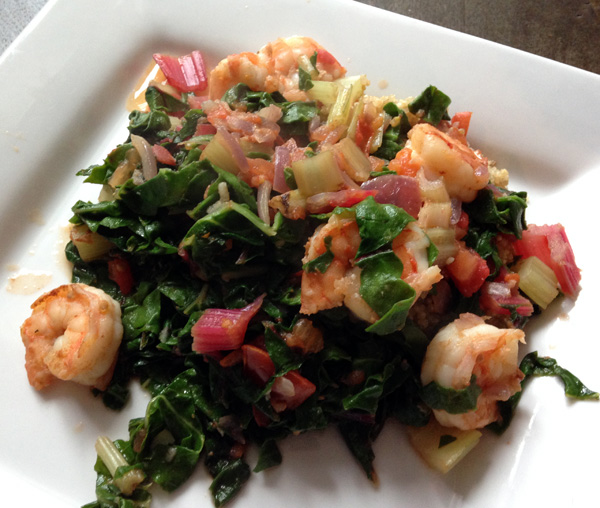 When I approached Greendale Herb and Vine, I saw a long list of suggestions for cooking with garlic scapes posted right next to the scapes. Right away I was interested; it took the guess work, and the how-to research out of the equation. Doug didn't stop there. As soon as he recognized I was interested, he told me to check out his Facebook page where he had posted a how-to video on roasting scapes with asparagus, which we just so happened to have in our crisper.
Now, let me tell you, this video was not only informative, it was hilarious – scapes flying everywhere! I loved it. And the end result on my end were beautifully roasted, super garlic-tasting asparagus and potatoes. Yum. Yum.
I have yet to work with garlic onions, but am contemplating a quiche, and the rhubarb, which I will likely be featuring in a weekend dessert, possibly a crisp or upside down cake. I shall keep you all posted.
Happy Farmers Market Shopping!
---
Originally published on local blog Tenth to the Fraser, The Farmers Market Challenge, written by Katie Bartel (and the odd guest star) seeks to challenge the notice that you can't get hardly anything for $40 at the farmers market. Each market, Katie explores what's the best deal, and discovers food she's never heard of.