If you were to Pinterest birthday party snacks, you will find reams of posts featuring Rice Krispie squares, cookies, chocolate-covered anything, chips, pretzels, greasy snacks galore. And I get it. Birthdays are all about debauchery.
BUT…
Do they have to be 100 per cent debauched?
Nah.
Last week we celebrated my son's fifth birthday with a superhero theme. And you know superheroes – Superman, Batman, Spiderman, Ironman, even Flash – they all need super fuel.
Word has it, they love their fruits and veggies 😉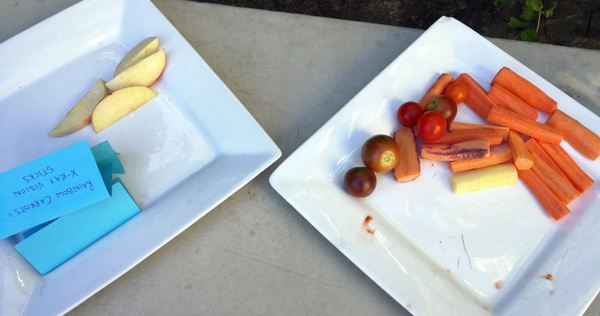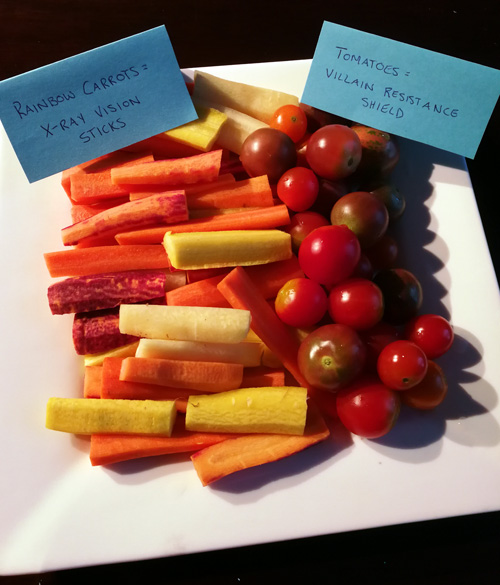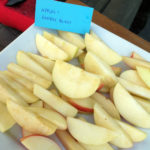 Our fuel-up station was 100% market fresh. The tomatoes were a mixture from both Greendale Herb and Vine and Ripple Creek Organic Farm. The super vision carrots (extra super because of the rainbowness) were from Zaklan Heritage Farm. And the energizing apple slices were from Harvest Direct Farms.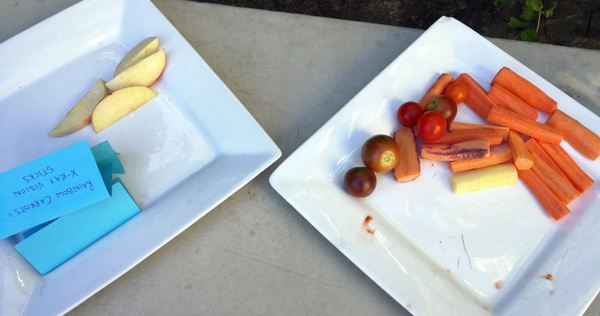 Yes, we had a super fantastic, super hero cake that a friend made, but we also had our health too. And that made this mama feel superhero fantastic!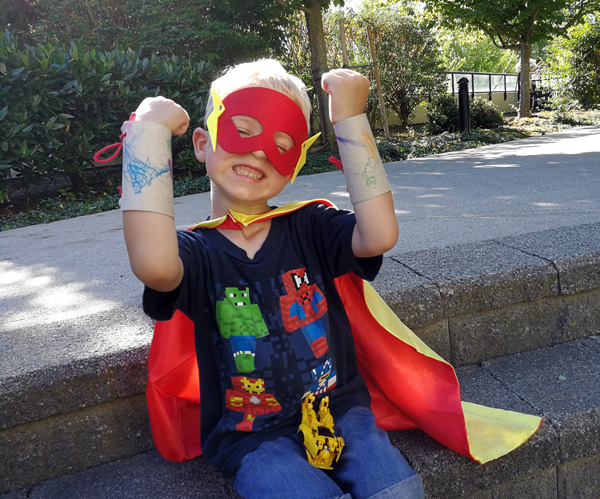 This Week's Loot
Greendale Herb and Vine
1 basket mixed cherry tomatoes $5
Ripple Creek Organic Farm
1 basket sunrise cherry tomatoes $5
Ossome Acres
1 bunch green onions $2
1 bunch collard greens $3
Zaklan Heritage Farm:
2 mixed bags of salad greens $9
1 head purple lettuce $2
1 bunch mustard greens $3
1 bunch rainbow carrots $3
Harvest Direct Farms
Fresh Quality Produce
1 bag English snap peas $3
Total spent: $40
How many parents out there were feeling frantic about back to school this week? Or was it just me?
I've been making my son's snacks and lunches for four years, but suddenly now that he's in kindergarten I felt the game has changed. He needed brain food. He needed energy food. As do I, now that I'm also back at UBC, in the dietetics program, with a super full course load, and three of my days starting at 8 a.m.!!!
Can the Farmer's Market help?
Right now, we've got a lot of fruits and veggies on display. Carrots, tomatoes and snap peas are a no brainer for fresh veggies mid-afternoon. Fresh fruits are always a go-to for both the boy and I. But we're not always going to have this abundance of freshness. In fact, with the leaves already falling in spots of New West, our days for summer fruits are fast dwindling.
One friend suggested borrowing her dehydrator for quick pick-me-up snacks well into the winter months.
Fermenting carrots, radishes, and onions might also be an option for added flavour and health snacks.
Eggs can be used in healthified baked goods that can be frozen for extended access. They can also be boiled and packed for a hearty snack or lunch.
My plan for next week is to create as many snack foods as possible with my market fare. How about you? What are you doing to amp up lunches and snacks?
---
Originally published on local blog Tenth to the Fraser, The Farmers Market Challenge, written by Katie Bartel (and the odd guest star) seeks to challenge the notice that you can't get hardly anything for $40 at the farmers market. Each market, Katie explores what's the best deal, and discovers food she's never heard of.