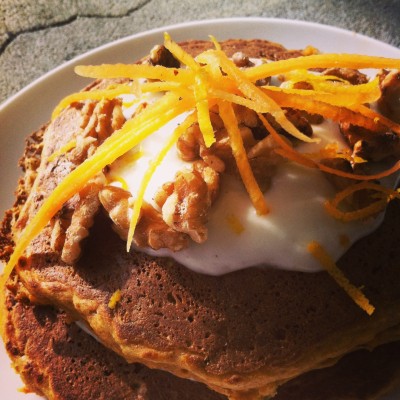 By Elizabeth Whalley
This week, here is my take on an old Valentine's tradition; breakfast in bed! Nothing says, "I love you" quite like the smell of fresh pancakes from the comfort of your bed. The nutritionist in me doesn't want to admit it, but oatmeal just doesn't lend well to the feelings of love and romance you'd expect on Valentine's Day. And personally, I feel everyone would be in a better mood if they broke down and had dessert for breakfast more often, so here's my way of fitting a little cake in before noon; Carrot Pancakes with Lemon Cream Cheese Icing.
These pancakes are made that much more special because they're loaded with local goodness straight from the market; eggs, apple and carrots; best of all everything is 100% organic! Plus it makes this meal just a smidge better for you. The pancakes are loaded with fibre from all the whole grain flours and fresh fruit and veg. The walnuts, my personal favourite nut, pack a quick hit of Omega-3 fats to start your day off on the right side of the bed. And with a few tweaks this breakfast can satisfy even the gluten intolerant's sweet tooth.
Carrot Pancakes with Lemon Cream Cheese Icing
Carrot Pancakes:
1 cup flour (I used; ¼ cup oat flour, ¼ quinoa flour and ½ spelt flour)*
1 ½ tsp baking powder
1 tsp sea or rock salt
1 tsp cinnamon
2 eggs
½ tsp pure vanilla extract
1 medium (sweet) apple, diced
1 medium carrot, grated
¼ – ½ cup almond or cow's milk
2 tbsp roasted walnuts
Butter
Cream Cheese Icing
1 tbsp butter (at room temperature)
1 tbsp cream cheese (at room temperature)
¾ cup icing sugar (pure cane if you can find it)
The zest and juice of half a lemon
*The flour recipe can easily be augmented to be gluten free; 1/3 cup GF oat flour, 1/3 cup quinoa flour and 1/3 cup buckwheat flour
Method:
Whisk eggs in a medium sized bowl until light and fluffy. Add vanilla, diced apple, grated carrots, baking powder, salt and cinnamon, stir until combined. Add flour and stir in gently. Stir in enough milk until a thin consistency is achieved. Set aside.
To make the frosting, cream the butter and cream cheese together in a small bowl. Add lemon juice, zest and icing sugar and stir until smooth.
On medium heat, melt a small amount of butter in a frying pan. Pour about a quarter of the batter into the hot pan, cook until golden and flip. About 3 minutes on each side.
To plate, place 1 pancake in the centre of a plate, add a heaping tablespoon of the icing in the centre and set the second pancake on top. Smooth a second heaping tablespoon on top and then sprinkle half the toasted walnuts and some lemon zest on top.
Serves 2.