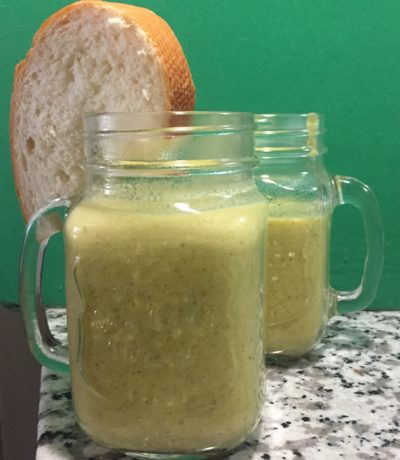 Thanks to all who took part in the Mason Jar Meal Prep workshop last week with Chef Jen Hiltz! Jen prepared a wonderful plant-based three-course menu for us to sample. From a green smoothie, to a lunch quinoa and chickpea-based salad, to a rich and cheesy vegan broccoli "cheddar" soup (recipe below).
She imparted us with her knowledge of nutrients, alkaline and base foods, how to soak our grains and nuts, how to make cashew cream, and which oils to use for proper salad dressing in order to refrigerate and use them through out the week.
Everything was fresh, simple, and enlightening. We were pleasantly surprised at how filling, delicious, and rich the recipes turned out. This broccoli "cheese" soup (which we made the very next day at home!) might surprise you… proof you really can get super-cheesy without the cheese!
Vegan Broccoli "Cheddar" Soup
1 tbsp olive oil
1 small onion ((diced))
1/2 tsp salt ((plus a pinch))
3 cloves garlic ((minced))
4 cups broccoli, stalks and florets
1/2 cup peeled and chopped carrots
1/2 tsp ground turmeric
3 cups veggie broth
Cashew Cream
1 cup cashews
2 cups veggie broth
3 tbsp white miso
2 tbsp nutritional yeast
2 tbps lemon juice
Sautee onion in oil with a pinch of salt for about 3 minutes. Add the garlic and sautee for around 30 seconds.

Add broccoli, carrots, turmeric, remaining 1/2 tsp salt, and broth. Cover and bring to a boil.

Once boiling, lower heat to a simmer and cook for 10 minutes until carrots are soft,
Cashew Cream
Add cashews to blender, along with broth, miso, and nutritional yeast. Blend until smooth.

Add the cashew cream to the soup and use an immersion blender to puree, so that only tiny bits of broccoli and carrots are visible. Keep the soup on low heat, partially covered for about 10 mins until thickened.

Once thickened, add the lemon juice, taste for seasoning, adjust if necessary and serve.