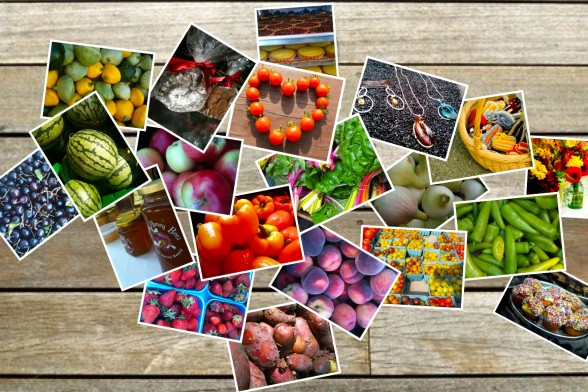 The board members and staff at RCFM are excited for this Thursday, June 7, which markets the season opener for our 2012 summer season. "One of the most memorable events last year was probably Opening Day," says Andrew Murray, President. "You should make a trip out this year for another memorable moment to say hello and welcome the local vendors."
The Essence of RCFM
Farmers markets are a time and place of community.  "It could go without saying that there's an ethereal element in the food that we buy, grow, prepare, eat, feed to, and sell. A farmers market embodies that ether," says Daniel McCash, Director. "I feel there's something real and independent about the farmers in a Farmers Market."
Jen Arbo, Operations Manager, is looking forward to market season as well. "I love seeing young people coming so close to their food. We love seeing families and friends come together to celebrate their passions for food and people."
We're also looking forward to theme days and special events this season. "I loved Silly Hat Day! We have some very creative and fun-loving people in this city!" says Hennisea Hoy, Secretary.
Looking Forward to…
The 2012 Nutrition Coupon Program. " It was really wonderful to be able to give back in such a concrete way, and to see people at the market every week using the coupons to buy the fantastic food that our vendors produce. I'm extremely proud that RCFM and our supporters were able to make that happen," says Marcy Koopmans, Treasurer.
"It went very well in 2011 and I am looking forward to another successful year of this very important program," says Hennisea.
Welcoming Jodi Appleton, RCFM's new Assistant Operations Manager. "The RCFM's opening market on June 7th will be my first summer market and I am really looking forward to tackling the logistics of the event with Jen, connecting with our vendors, and meeting some of the local residents.  It should be an exciting day for everyone," says Jodi.
Wishing Jen Arbo, the current Operations Manager, a memorable last market season. Jen has spent the last few years helping the RCFM grow to the size and depth it is now, and is happy with the work she has done. as "a community, a micro-ecosystem with shoppers, vendors, and community groups. It feels very comfortable and representative of a community I enjoy being a part of, and that weekly reminder will be something I miss the most."
"All of New Westminster should come to the farmers market at least once – when they see how awesome it is, they'll wonder what took them so long to come in the first place!" says Brigette Mayer, volunteer coordinator.
We hope you can join for "18 sun soaked Thursdays and being able to share them with the great team we have at RCFM," says Andrew.
See you this Thursday for our season opener!
What's on this week
Music this week is funk band Blitzcrank. Our music at the market is sponsored by the great people at the Heritage Grill. Be sure to check out the kids area – Korki the Clown will be in attendance twisting balloons and Allyson the Facepainter will be there to add decorations to your face!
You can reach the market via transit by taking the 106 bus or the Skytrain to Columbia Street Station and walking to the market at 4th and Royal. Parking is available in the neighbourhood for free along Royal Avenue, Queens Avenue, or at City Hall's lot after 4:30. Please respect our neighbours. Cyclists can drop bikes off to the fine folks at our info desk for safekeeping.
A list of all vendors attending the first market June 7  below, but remember to check back for cancellations and updates! This list is current as of June 5.
Eat On Site
Produce
Dairy
Honey
Meat & Fish
Bread & Baking
Delectable Treats and Prepared Yummies
Local Crafters