Blog post by RCFM contributor Katie Bartel
Okay, so I'm just gonna put this out there, maaaaaybe, just maybe, my second recipe in I shouldn't have opted to wing it. Probably. But hey, my family and I are still alive, and this adventure is all about going big or going home. Right 😉
So, at the last Farmers' Market my husband's eyes lingered at the forager's booth. While I love mushrooms, like really love them, let's be honest, they don't really speak sexy. And oddball? What's so oddball about mushrooms aside from the poop factor?
Well folks, have you met Matt McAllister? Young guy, pretty chill, knows an insane amount about mushrooms. Which is probably a good thing seeing as how he's selling them to you, and you really don't want to be popping a Death Cap in your mouth – they're poisonous.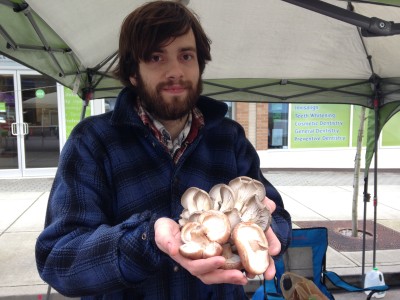 McAllister didn't grow up dreaming of a career in foraging; he had aspirations of being an entomologist, geologist, pretty much anything with "ologist" in the name.
"I kind of blindsided me," he said, "but it makes sense; it's dealing with the natural world."
And like so many of today's millennials, about five years ago, fresh out from his parent's nest, McAllister was looking for ways to offset the daily costs of living. Out for a walk one night he was stopped in his tracks by a mushroom that most others wouldn't have even noticed. Hmm, he thought. Those look quite a bit like the ones I'm buying in the grocery store. Hmm, he thought. LIGHTBULB! A quick jaunt to the bookstore, and a mushroom bible, that has barely left his side since, was acquired.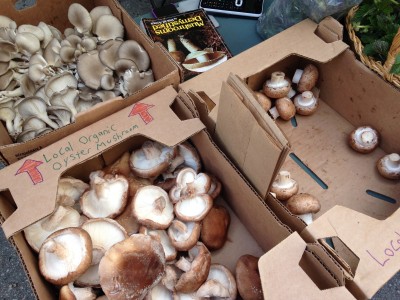 In five years, he estimates picking 40 or 50 edible varieties – oyster, pine, Man on Horseback, porcini, morels, chanterelles, hedgehogs. He's travelled all over B.C. and the Yukon. It's easy, he said. Once you know the distinct features to look for, they're everywhere.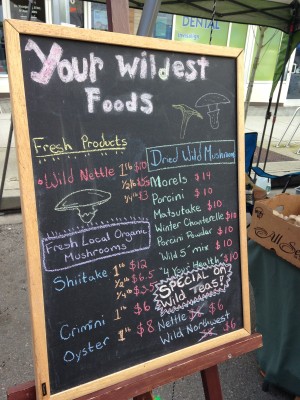 And you know, five minutes talking to this guy, it was clear I was wrong, so totally wrong. Mushrooms are sexy. Take the pack of Tumbler Ridge fire morels I took home with me. These guys are not your average Joe Blow creminis found at every vegetable stand, oh no, these dudes have crazy history.
In 2014, about 60 kilometres southeast of Tumbler Ridge a massive wildfire wiped out over 30 hectares of the region. These morels were of the first living things to resurface and reproduce on the land the following spring. It is a foragers goldmine.
"There's about 1,000 people camped out from May to July picking and drying," said McAllister, who dried his on a hand-crafted clay oven over a wood-burning fire. "Once you start [foraging] it's like falling down the rabbit hole."
THE RECIPE:
Okay, so for about three months now, ever since I polished off my last bite of the delectable quinoa salad from Tractor Foods on West 4th in Vancouver, I have been craving it, like drooling about it just thinking about it, dreaming of it even. There's quinoa, there's sundried tomatoes, golden raisins, goat cheese, parsley, cilantro, and roasted mushrooms. Try as I might I could not find a comparable recipe, so I thought, hey, I've got all the ingredients, I know how to make quinoa – I'm totally gonna wing it. AND, while it wasn't Tractor style, it was still pretty darn tasty! So many flavours just bursting in my mouth. Buuuuut, the problem, there were far too many other powerful ingredients to get a full feel for the fire morels.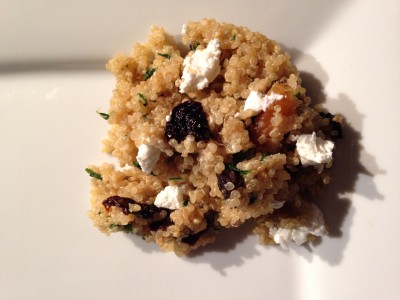 Luckily, the dehydrated bag of mushrooms plump right up on hydration and there were plenty more for a round 2. This time with a recipe.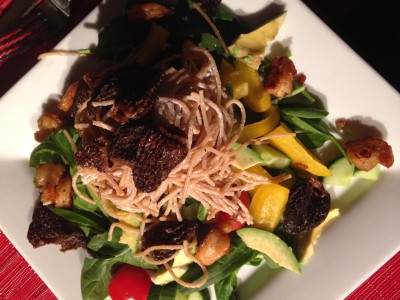 The recipe called for hazelnuts but we didn't have any so instead we opted for shrimp, and it was the perfect pairing. The smoky, deep, down-in-the-earth taste of the morels, along with their chewy nature fit so complementary to the salty seafood. And in fact, I'm betting they'd work beautifully with clams and mussels too.
And just look at the cuteness factor – they even look like seashells!!! A match made in belly heaven!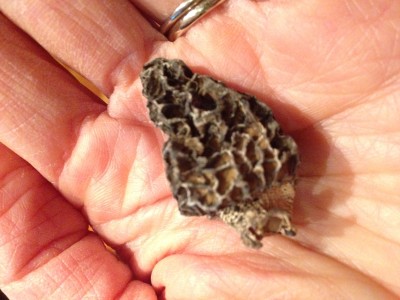 To learn more about McAllister's shrooms, visit him at the next Royal City Farmers' Market this Saturday, or check out his website www.yourwildestfoods.com.
RECIPE: Drunken Wild Mushroom Pasta (acquired from http://www.joyfulhealthyeats.com/drunken-wild-mushroom-pasta-recipe/)
Ingredients
3 tablespoons olive oil
26 oz. assortment of wild mushrooms, sliced (crimini, shitake, oyster, baby bella, whatever you want)
1 red onion, diced
4 garlic cloves, minced
1 teaspoon sea salt
2 tablespoons sherry cooking wine
2½ teaspoons fresh thyme, diced
1 lb. Dreamfields linguine pasta
6 oz. goat cheese
¾ cup reserved pasta cooking liquid
salt to taste
¼ cup hazelnuts, chopped
Instructions
Bring a large pot of water to a boil.
Heat a large skillet to medium high heat.
Add olive oil and mushrooms. Saute for 7-10 minutes until mushrooms start to brown.
Next add onions, garlic, and season with salt. Saute and stir onions for 3-4 minutes.
Add in sherry cooking wine and cook down until liquid is evaporated. Finish with fresh time and set aside.
Add noodles to pot of boiling water. Cook until al dente (according to package instructions)
Reserve ¾ cup of pasta cooking liquid and drain the rest.
Add the noodles, wild mushroom mixture, goat cheese, and cooking liquid to a large bowl. Toss to mix everything together until goat cheese is completely melted.
Top with chopped hazelnuts!
Serves: 6-8