The next market will take place on September 16, 2021 at Tipperary Park .
Join us from 3-7pm in Tipperary Park next to New West City Hall!
We are slowly adjusting our protocols to the new PHO order changes. We appreciate you bearing with us.
We have taken down the caution tape and we can now welcome dogs back to the market!
You can now enter and exit our market at the top of Tipperary Park, in front of City Hall, and at 4th Street.
Don't forget our COVID safety protocols:
– keep your distance
– please shop efficiently
– please consider wearing a mask!
This week's vendors are below: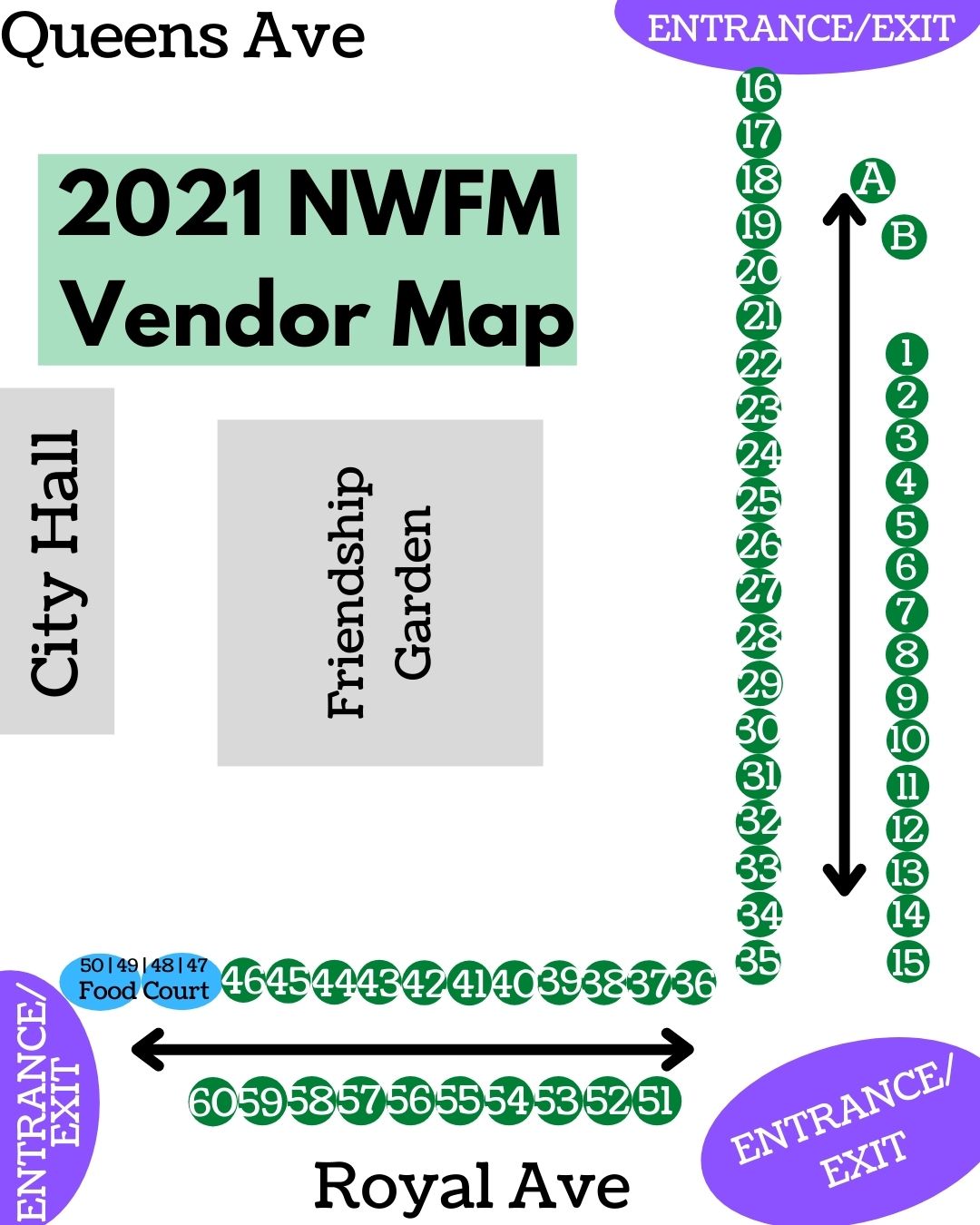 NEW – (55) Plantastic Foods – plantbased cheesecake
Food Court:
(47+48) Reel Mac and Cheese
(50+49) Crema Ice Cream
Artisans and Pet Products:
(1) Beloved
(5) Faceplant Organic Skin Care
(36) Handcrafted Personal Touch
(29) Serenity Living
(45) Th!nk Soap
Bakeries:
(13) Bannock Queen
(26) Marie's Guilt Free Bakery
(24) O Croissants
(20) Occasionally Honey
(28) Oh Sweet Day!
(51) Sweet Thea
Beverages:
(56) Humblebee Meadery
(4) Mukasi Coffee & Co.
(46) Odd Society Spirits
(14) Studio Brewing
Confections:
(30) Drunken Chocolatier
Community Groups:
(60) Gambling Support BC
Dairy:
(25) Golden Ears Cheescrafters
(15) Mt Lehman Cheese Co.
Prepared Foods:
(6) Anne's Kitchen
(42) BobAli Foods
(21) Bowen Island Herbs and Salts
(3) Corbicula Pollen
(58) Empanada Gals
(44) Flurer Smokery
(16) Gary's Kettle Corn
(23) Gingeraki
(10) Island Jerky
(9)JustGo Smoothie
(8) Koji Fine Foods
(7) Morgan's Harbour
(39) Pastaggio
(55) Plantastic Foods
(19) Plantbase
(40) Scratch Fine Foods
(22) Whatsoup
Produce/Flower Farmers:
(31+32) Abundant Acre Family Farm
(41) Amazing Foods BC
(34+35) Andor Farms
(52+53) KPU Farm Schools – Tsawwassen First Nation
(20) Mandair Farms
(27) Peace Arch Farms
(43) Petals and Vines
(37) Rai Produce
(38) Soul Light Microgreens
(11+12) Vida Farm
Protein Farmers & Fish:
(17) Outwest Ranches
(A) Rockweld Farm
(B) Wild West Coast Seafoods
Getting Here