I love making pie. I also love eating pie. Therefore, I only make pie when I have people to share with (and my 4 year old does not count). Last month I participated in the Pie for Pride contest and fundraiser at the New West Farmers Market and I made this recipe, apple-strawberry pie, and that led me to make it again to share. My 4 year old had other ideas, unfortunately. While he doesn't like sweets and pie much, he does like strawberries, and the local market strawberries are irresistible to him. I made the pastry and had it resting in the fridge, and was beginning to prep the fruit when I noticed the berries had been raided. I'm kind of used to a certain degree of chaos and this was a very minor blip, so I took the raspberries I froze a few weeks ago and kept on baking, substituting those for what were eaten.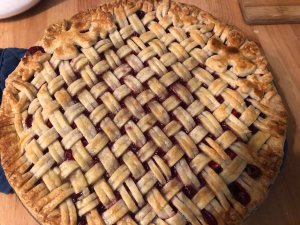 Strawberry (or raspberry) Apple Pie
Serves 8
Prep time: 30 minutes
Cook time: 1 hour, 10 minutes
Ingredients
Crust:
2 1/2 cups all purpose flour
1 tbsp sugar
1 tsp salt
1 cup cold butter, cut into cubes
5-6 tbsp ice water
Filling:
3 cups apples, peeled, quartered and sliced
3 cups berries (strawberries sliced, with tops removed)
1 cup granulated sugar
2 tbsp corn starch or tapioca
1 tbsp lemon juice
Egg Wash:
1 egg
1 tbsp milk
Directions:
Mix the flour, sugar and salt together and add the butter. Cut it in with a pastry cutter or 2 knives, until the butter pieces are no larger than a pea. Using a fork, mix in 1 tbsp of ice water at a time until the dough forms a ragged ball. Turn onto a lightly floured surface and knead 5-8 times, until it comes together. Divide into 2 pieces, wrap with plastic wrap and refrigerate for at least 1 hour.
Remove from fridge and roll into 2 12" circles. Line a 10" pie plate with one of the rounds and trim the excess dough.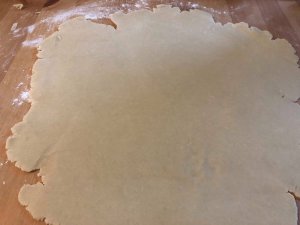 Preheat oven to 375 F.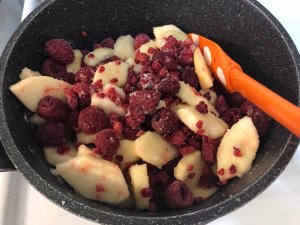 Place all the filling ingredients into a medium saucepan and heat over medium until it starts to boil, then lower the heat slightly and cook for 5 minutes. Let cool slightly and pour into the pie shell.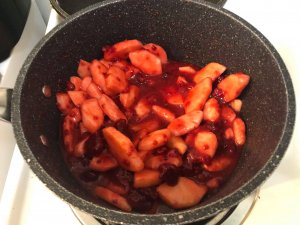 Cover with the second pastry round and trim the excess, leaving approximately 1", Crimp the edges, and pierce the top to let steam release in the oven. Brush the crust with an egg wash and bake for about 40 minutes.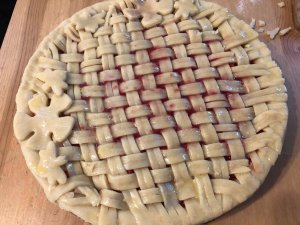 And enjoy!