We've been fortunate enough to have one of our market regulars, Alyssa, (who is also an amazing home chef) agree to share her Farmers Market inspired recipes with us every month. Enjoy her first instalment below! – Lily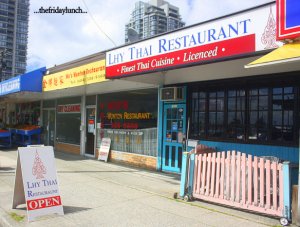 (source: The Friday Lunch)
As a kid, my favourite restaurant was, without a doubt, the Lhy Thai on Edmonds, in Burnaby. Amazing food, authentic, and very 'cozy'. The space, more than 20 years later, hasn't changed much. It's tiny, cramped and always busy. I walk in and can still remember sitting with my parents and 3 sisters 20 plus years ago, eating together, enjoying both family and community. I moved back to New Westminster 2 years ago with my son, and I feel blessed to be raising my son in the same wonderful city I grew up in. New West has always been a city that thrives on personal connection and history.
The New West Farmers Market is one of my favourite ways to experience this city as a personal community. Even among strangers, connections are deep. Food does that to people, it forges connections, and the farmers market brings it all together in a very special way. I was lucky this week to pick up plenty of produce and meat. I found lovely spinach, parsley, and garlic, plus more goodies for other meals, and got some chicken from Rockwell farms.
The recipe I decided to share is a favourite dish of mine from my childhood, chicken satay, which I serve with spinach and rice. I use an oil based marinade with fresh garlic, ginger and parsley, and crushed whole cumin, which is a far cry from the traditional coconut milk based marinade used in Thai chicken satay. My kiddo is a bit picky so concessions and compromises mean we can both enjoy more adventurous meals together.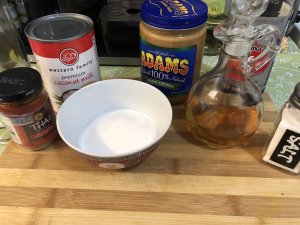 Serves 4
Satay sauce
Prep time: 5 minutes
Cooking time: 6-8 minutes
1 cup coconut milk
2-3 tbsp Thai red curry paste
1 cup natural peanut butter
1/4 cup white sugar
2 tsp dark soy sauce
1 tsp salt
2 tbsp cider vinegar (or white vinegar)
1/2 cup water
Combine all ingredients in a small saucepan and whisk well, and heat until bubbling and thickening, then cook for 3-5 minutes. It should be a thick but pourable consistency, if it's too thick it can be thinned with a bit more water. Remove the pan from heat and cover to keep warm until serving.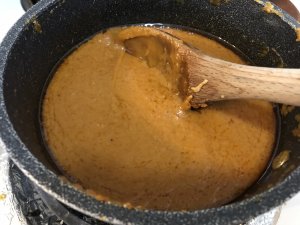 Chicken
Prep time: 20 minutes, in addition to the time to marinate
Cooking time: 10 minutes
3-4 chicken breasts, sliced or cubed
1/4 cup finely chopped parsley
4 cloves garlic, crushed
1/2″ piece ginger, grated
1 tsp salt
1/2 tsp pepper
1/2 tsp whole cumin
1 tbsp brown sugar
Juice and zest from 1 lime
1 1/2 tbsp olive oil
1 tbsp olive oil for cooking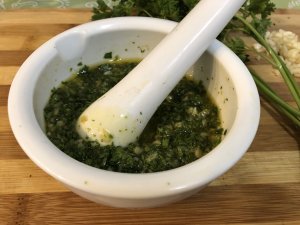 Mash the marinade ingredients with a mortar and pestle or in a food processor.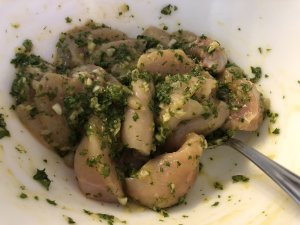 Mix marinade with the chicken pieces in a bowl, cover and refrigerate for at least 1 hour. The chicken can be cooked in individual pieces or threaded onto skewers.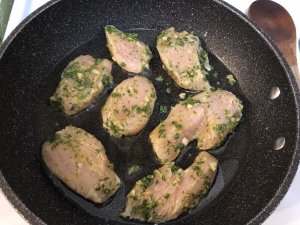 Remove the chicken from the fridge and preheat a pan on medium with the remaining oil. Place chicken in the pan without overcrowding and cook for approximately 7-10 minutes, depending on size, flipping once. The chicken should reach an internal temperature of 165 F at the thickest parts.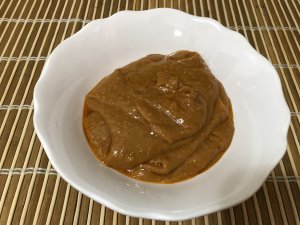 Keep warm until serving, drizzle with sauce and serve with sautéed spinach and rice.